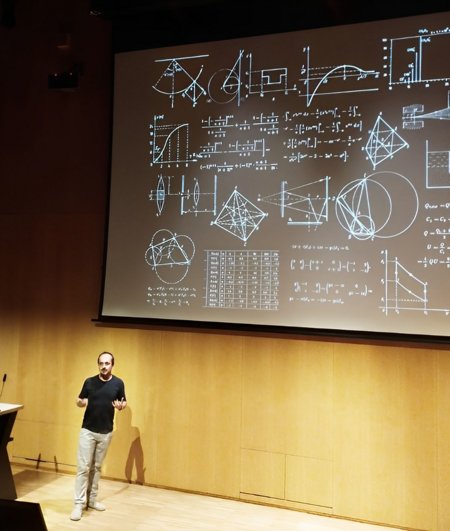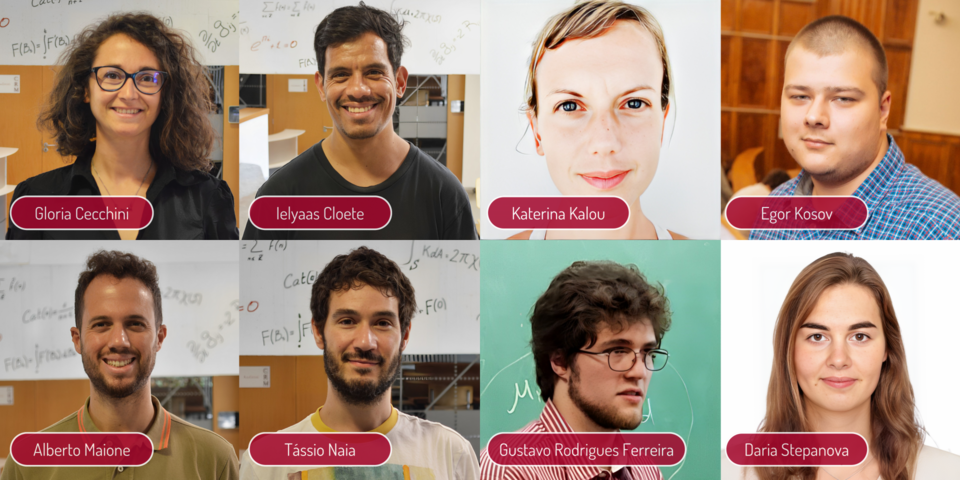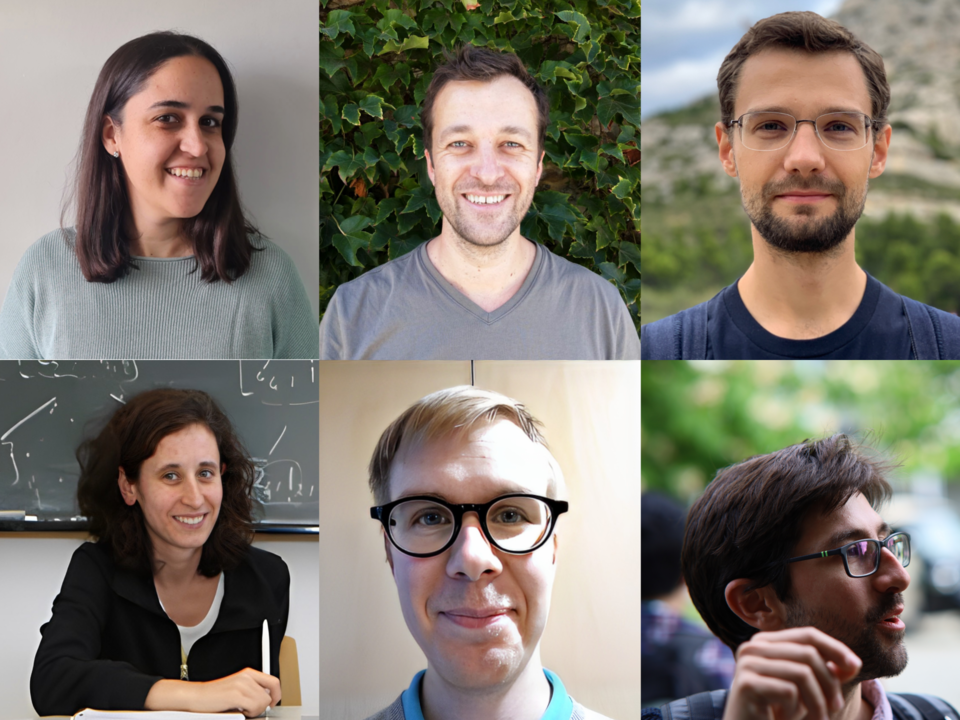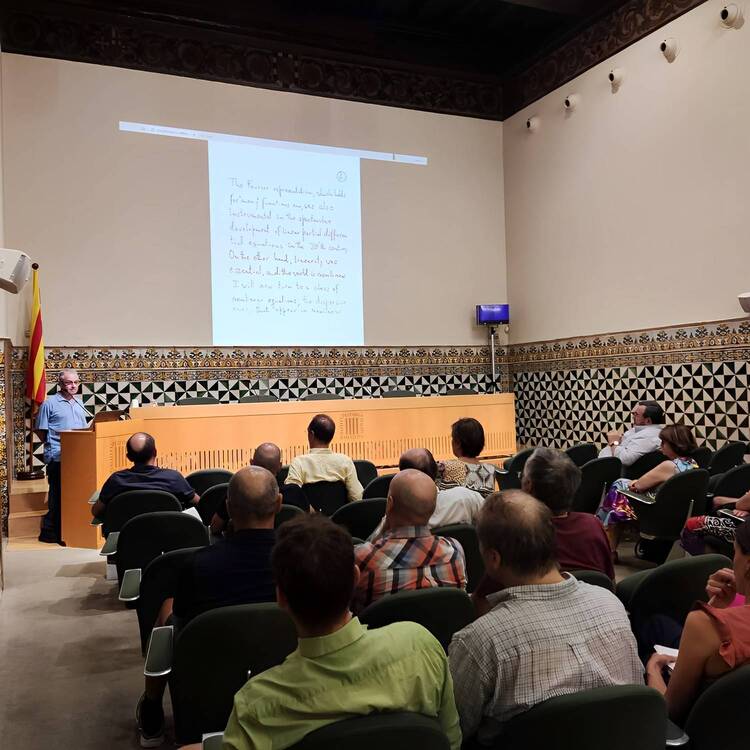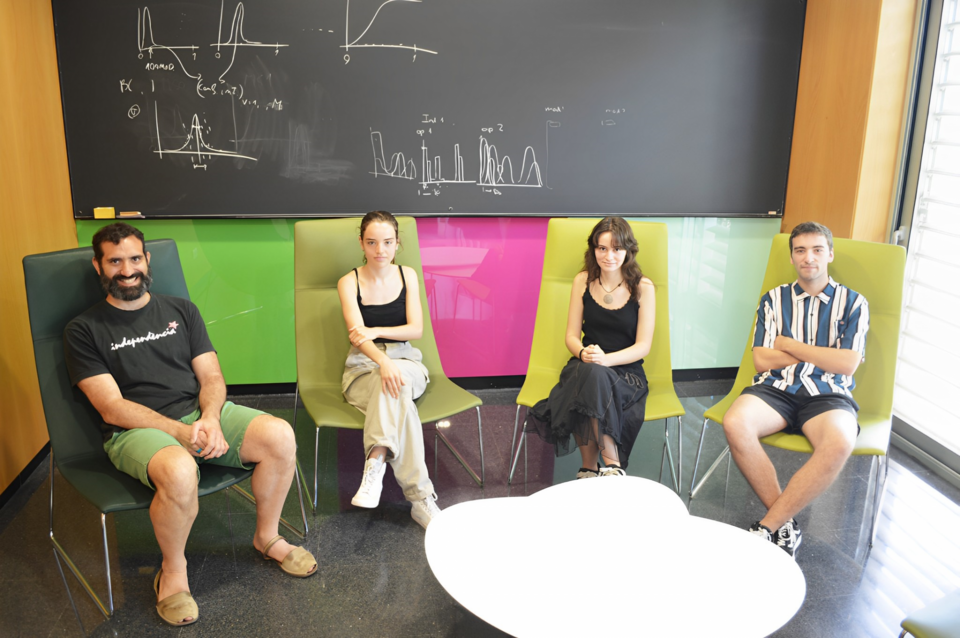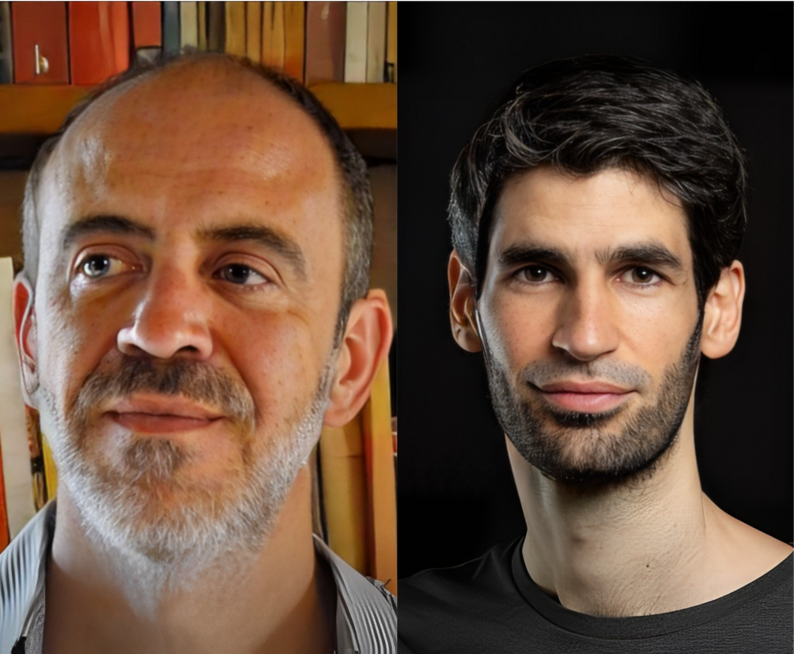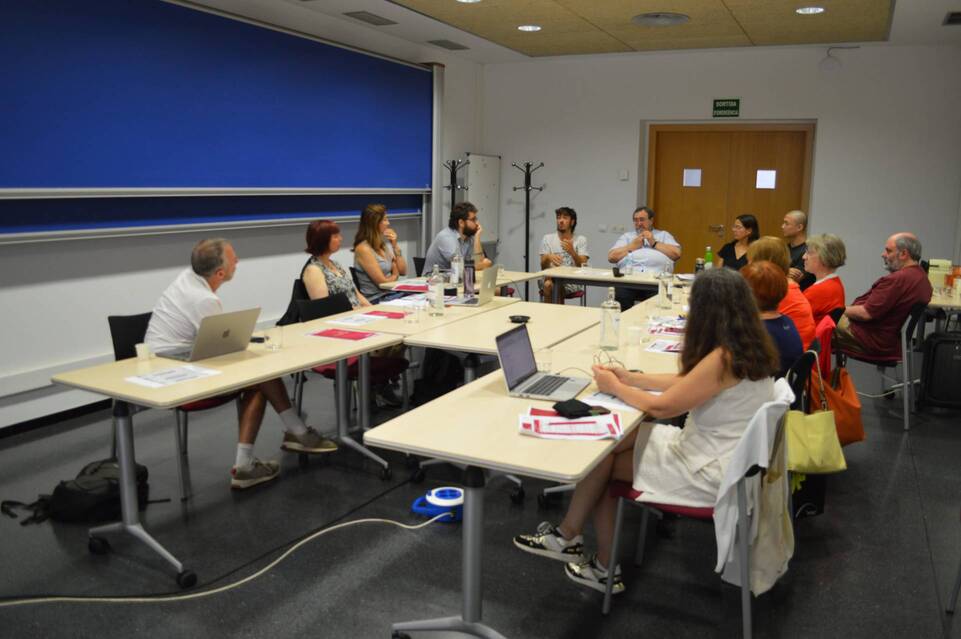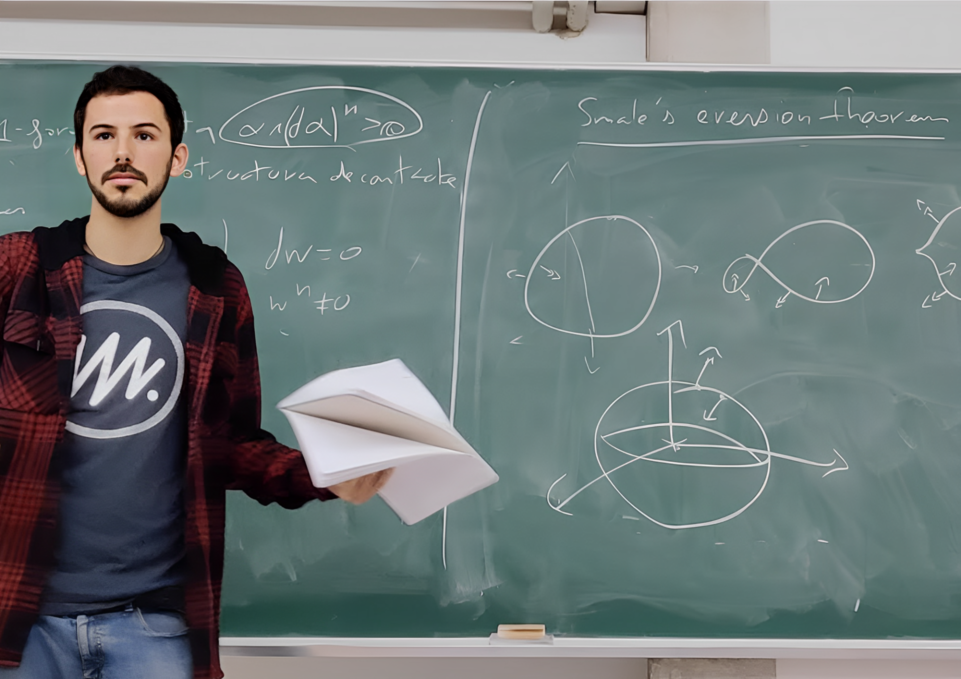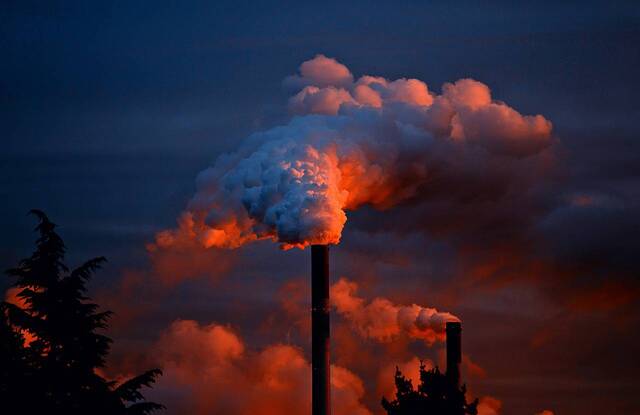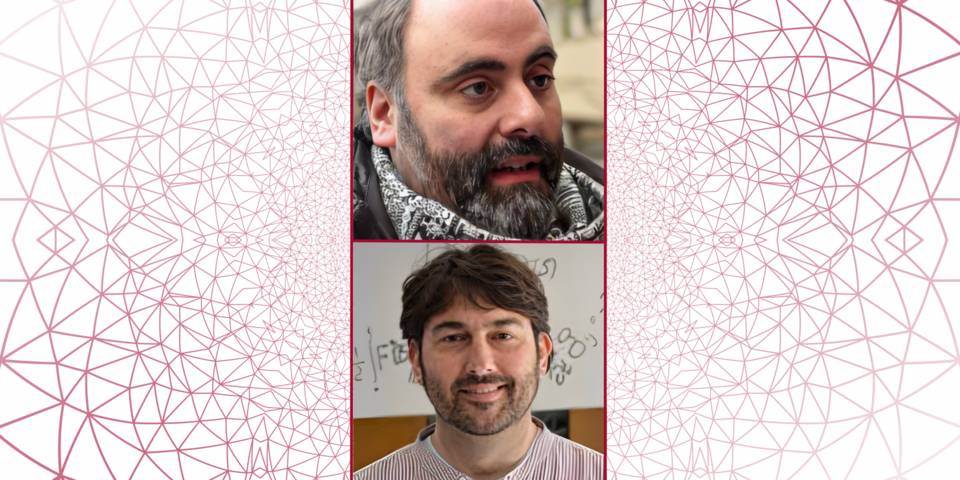 Slide 3
by Pau Varela | Oct 2, 2023 | CRM News
Axel Masó i Giovanni Dalmasso participen a la 🌒 Nit de la Recerca Europea

El Centre de Recerca Matemàtica (CRM) va estar present a les activitats organitzades un any més durant la Nit de la Recerca Europea. Durant aquesta edició de la Nit de la Recerca Europea, el CRM va participar a través de la seva unitat de transferència de coneixement, representada per Axel Masó, desenvolupador de sorfware científic del CRM, i pel grup de recerca en Biologia Matemàtica i Computacional, a través de l'investigador Postdoctoral Giovanni Dalmasso.
Slide 3
by Pau Varela | Sep 28, 2023 | CRM News
Welcoming 8 New Postdoctoral Researchers Joining the CRM this Month


We start the academic year 2023-24 with the addition of eight new researchers to our groups, all of them from different backgrounds and expertise. This new batch of talent joining our community includes four postdoctoral fellows hired thanks to the Maria de Maeztu Unit of Excellence award and one Marie Sklodowska-Curie fellow.
Slide 3
by Pau Varela | Sep 26, 2023 | CRM News
Xavier Ros Oton Guanya el Premi Nacional d'Investigació 2023 per a joves 'María Andresa Casamayor'

Xavier Ros Oton, investigador ICREA, catedràtic de la Universitat de Barcelona i investigador adscrit al CRM, ha estat guardonat amb el Premi Nacional de Recerca per a Joves 'María Andresa Casamayor', en l'àrea de Matemàtiques i Tecnologies de la Informació i les Comunicacions, un dels reconeixements més prestigiosos en l'àmbit de la recerca científica a Espanya.
Slide 3
by Pau Varela | Sep 14, 2023 | CRM News
Welcoming Six New Affiliated Researchers to the Centre de Recerca Matemàtica

Jezabel Curbelo and Olli Saari join the CRM research community from the Universitat Politècnica de Catalunya, while Paloma Bengoechea, Kolja Knauer, Kostiantyn Drach and Arnau Padrol come from the Universitat de Barcelona. With their affiliation, 81 researchers from the UAB, UB and UPC have already joined the CRM in the last few years to bolster the mathematical research carried out in Catalunya, while also strengthening collaboration between institutions.
Slide 3
by Pau Varela | Sep 12, 2023 | CRM News
The CRM Holds its Colloquium with a Revamped Format

The CRM Colloquium, held on September 4th, 2023, featured a talk by Carlos Kenig on nonlinear wave equations, while the event's networking opportunities underscored the importance of collaborative efforts in mathematical research. The meeting was an opportunity to showcase the strength of the mathematical community in Barcelona, and its firm commitment to advancing the frontiers of mathematics.
Slide 3
by Pau Varela | Jul 25, 2023 | CRM News, KTT
La unitat de transferència del CRM acull dos estudiants de batxillerat i primer any de carrera

Irina Espasa, guanyadora del Premi Extraordinari de Batxillerat 2022, Aran Terrades, estudiant de l'Escola Virolai, han realitzat aquest mes de juliol estades amb la unitat de transferència del coneixement del CRM per conèixer de primera mà la recerca matemàtica.
Slide 3
by Pau Varela | Jul 21, 2023 | CRM News
Xavier Cabré (ICREA-UPC-CRM) i Xavier Ros-Oton (ICREA-UB-CRM) guanyen el premi Frontiers of Science a l'ICBS

El guardó, que es va presentar durant la conferència inaugural celebrada a Beijing, premia articles d'investigació avançada publicats en els últims 5 anys, en els camps de les matemàtiques, la física teòrica, i la informàtica teòrica i les ciències de la informació."
Slide 3
by Pau Varela | Jul 11, 2023 | CRM News
The CRM Scientific Advisory Board (SAB) met last week

Among the key topics discussed by the SAB, chaired by Robert MacKay from the University of Warwick, were the evolution of the Maria de Maeztu Strategic Plan and the process of affiliation of researchers from the UPC, UAB, and UB.
Slide 3
by Pau Varela | Jul 6, 2023 | CRM News
Robert Cardona, Former BGSMath PhD Student, Wins the Vicent Caselles RSME Mathematical Research Award

The Real Sociedad Matemática Española (RSME) and the BBVA Foundation have announced the names of the six winners of the Vicent Caselles Mathematical Research Awards in its 2023 edition, including BGSMath alumni Robert Cardona. The aim of these awards is to support and encourage young professionals who carry out their work in the field of mathematical research.
Slide 3
Proyecto I+D+i «Prueba de Concepto» 2021: La explotación de las matemáticas para ayudar en el diseño de columnas de adsorción

Este proyecto de investigación financiado por la AEI busca profundizar en el entendimiento de los procesos de las columnas de adsorción para mejorar el diseño de futuro equipamiento y aumentar su efectividad mientras se reducen los costes.
Slide 3
by Pau Varela | Jun 23, 2023 | CRM News
Tomás Alarcón i Josep Sardanyés participen a dues xarxes temàtiques de recerca d'àmbit estatal

La xarxa DANCE de sistemes dinàmics ha creat un nou node al CRM amb Tomás Alarcón com a responsable, mentre que Josep Sardanyés és el responsable del node al CRM d'una nova xarxa de biofísica no lineal creada a través de la convocatòria Redes de investigación de l'Agencia Estatal de Investigación.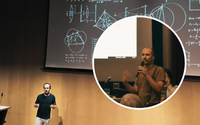 El Centre de Recerca Matemàtica va participar a la Nit de la Recerca Europea, un esdeveniment públic destinat a acostar la ciència i la...
read more

CRM Comm Team
Anna Drou | Pau Varela