The new arrivals at CRM this January are joining the Harmonic Analysis and Approximation Theory group and the Complex Systems Group.
Cristina Crespo is joining Álvaro Corral's team at the Complex Systems research group as a postdoctoral researcher. Cristina graduated in Environmental Sciences at Rey Juan Carlos University (Madrid) and studied for a Master's in Environmental Geology (Complutense University of Madrid) specializing in Geological Risk. Her main research field is statistical analysis of seismicity, particularly in intraplate seismicity, that was driven during her Ph.D; "Analysis of seismic series in an intraplate region (Northwest Iberian Peninsula)".
Her scientific research also includes the study of the completeness of the seismic catalogue, thanks to the analysis of historical earthquakes. Lichenometry dating is also a covered field of her scientific career. As a result, she has published several scientific papers in high-impact journals, and has participated in several communications at International Conferences.
Besides, she has collaborated with the German Research Centre for Geoscience – GFZ and now, she will work with the Complex System Research Group of CRM. Her Research group is also TECVOLRISK (Tectónica, Vulcanismo y Riesgos Asociados) of Rey Juan Carlos University.
We also have a new PhD student, Miquel Saucedo, who is joining the Harmonic Analysis and Approximation Theory research group to develop his thesis under the supervision of Sergey Tikhonov. Miquel graduated from the Universitat Autònoma de Barcelona with a bachelor's degree in Mathematics and Physics, and from the Universitat de Barcelona with a Master's Degree in Mathematics.
We wish them both a fruitful time with us. Welcome on board!

CRM Comm Team
Anna Drou | Pau Varela
Subscribe for more CRM News
Stay updated to our mailing list to get the lastest information about CRM activities.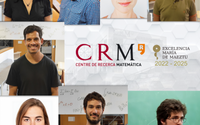 We start the academic year 2023-24 with the addition of eight new researchers to our groups, all of them from different backgrounds and expertise. This new batch of talent joining our community includes four postdoctoral fellows hired thanks to the Maria de Maeztu...