Aquesta distinció, atorgada cada dos anys per la London Mathematical Society, convida a matemàtics destacats a escala internacional per realitzar intervencions als departaments de matemàtiques més prestigiosos del Regne Unit.
La London Mathematical Society (LMS) va nomenar Eva Miranda, catedràtica de geometria i topologia de la Universitat Politècnica de Catalunya i membre del CRM, com a Hardy Lecturer de la societat per aquest any 2023, per la seva condició d'"investigadora matemàtica de gran reputació″ que alhora "pot adreçar-se a un ampli públic matemàtic". Com a part d'aquest guardó, la professora Miranda iniciarà aquest mes de maig un cicle de conferències a diversos departaments de matemàtiques a universitats del Regne Unit que durarà fins al setembre.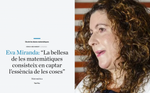 Per a Eva Miranda, "el Hardy Tour és alhora un honor sense precedents i un gran repte per mi. Requereix una preparació molt meticulosa en un moment on ja tenia diversos compromisos assolits a congressos i són 9 xerrades diferents. Això ha fet que el Tour tingui lloc en tres etapes."
Aquesta gira inclou l'anomenada Hardy Lecture, que tindrà lloc a la reunió anual de la LMS el pròxim 30 de juny a la Mary Ward House de Londres i anirà precedida per una conferència a càrrec de Sir Roger Penrose, guanyador del Premi Nobel de Física el 2020 pels seus estudis sobre cosmologia. "Amb en Sir Roger Penrose ens hem trobat un parell de vegades per zoom per coordinar les nostres xerrades i hem parlat més de dues hores sobre matemàtiques, computabilitat i física quàntica i hem discutit diverses demostracions detallades. És un moment àlgid per mi tant a nivell professional com personal."
La Hardy lecture s'inscriu en un congrés d'un dia que conclourà amb una exhibició d'art From it to to Bit: Psychedelic fluids inspirada per la interacció de teoria de Fluids i Computació″.
En total seran nou conferències les impartides per Eva Miranda, algunes de les quals es podran seguir en línia a través de Zoom, amb intervencions a universitats tan prestigioses com Oxford i Cambridge i la participació en el congrés de la Universitat d'Edimburg sobre Geometria Simplèctica.
La LMS Hardy Lectureship porta el nom de G.H. Hardy, expresident de la Societat i guanyador de la medalla De Morgan, per distingir a matemàtics de fora del Regne Unit. Eva Miranda és la primera matemàtica espanyola en rebre aquesta distinció.
A continuació podeu trobar el detall de les conferències que componen el Hardy Tour.
30 de maig

Counting periodic orbits

University of Cambridge, Cambridge

Organiser: Maciej Dunajski

+ INFORMATION
1 de juny

From Alan Turing to contact geometry: towards a "Fluid computer"

The London Institute for Mathematical Sciences at the Royal Institution, London

Organiser: Saksham Sharma

+ INFORMATION
26 de juny

Desingularizing singular symplectic structures

University of Birmingham, Birmingham

Organiser: Marta Mazzocco

+ INFORMATION
28 de juny

Euler flows as universal models for dynamical Systems

University of Warwick, Coventry

Organiser: José Rodrigo

+ INFORMATION

Hardy Lecture

30 de juny

From Alan Turing to fluid computers: Explored and unexplored paths

Mary Ward House, London

Organiser: London Mathematical Society.

Register at https://www.lms.ac.uk/civicrm/event/info?reset=1&id=97

Visionat conjunt a l'Institut d'Estudis Catalans (Barcelona)

+ INFORMATION
4 de juliol

Singular Hamiltonian and Reeb Dynamics: First steps

University of Oxford, Oxford

Organisers: Andrew Dancer and Vivat Nanda

+ INFORMATION
6 de juliol

Action-angle coordinates and toric actions on singular symplectic manifolds

Loughborough

Organisers: Sasha Veselov and Alexey Bolsinov

19 de setembre

From Symplectic to Poisson manifolds and back

Edinburgh

Organiser: José Figueroa-O'Farrill

21 de setembre

Quantizing via Polytope counting: Old and new

Glasgow

Organiser: Ian Strachan
Eva Miranda és catedràtica de la Universitat Politècnica de Catalunya, especialitzada en Geometria Diferencial, Física Matemàtica i Sistemes Dinàmics. Ha estat guardonada amb diversos premis prestigiosos, com ara dos premis ICREA Academia el 2016 i el 2021, una Càtedra d'excel·lència 2017 de la FSMP a París, un premi Bessel el 2022 i el premi François Deruyts el 2022.

CRM Comm Team
Anna Drou | Pau Varela
CRMComm@crm.cat
Subscribe for more CRM News
Stay updated to our mailing list to get the lastest information about CRM activities.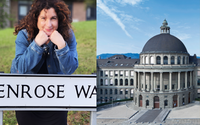 Eva Miranda, a Full Professor at the Universitat Politècnica de Catalunya and affiliated researcher at CRM, has been invited to give a lecture in the Nachdiplom series at ETH Zurich. Her lecture, titled "Singular Symplectic Manifolds," is scheduled for the fall of 2025 and is expected to delve into the intricacies of this complex topic, a subject she has extensively researched since 2009.