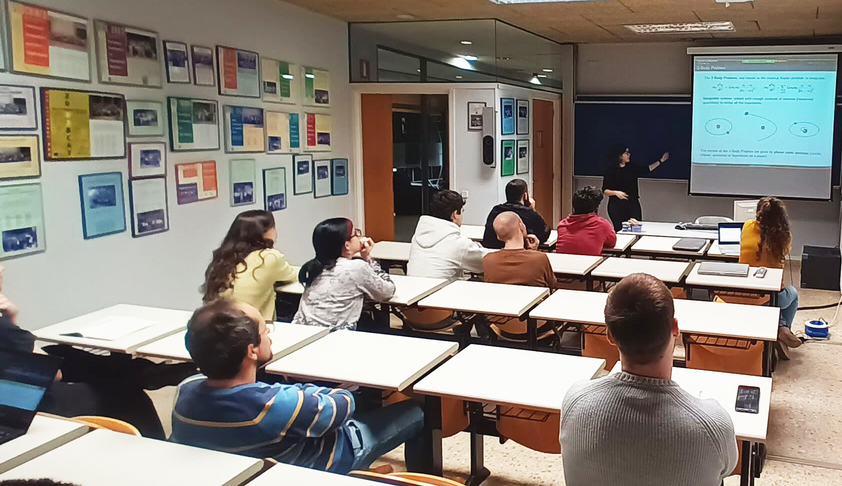 On Friday 18th, the Seminari Interdisciplinari per a Joves Investigadors en Matemàtiques (SIJIMat), organized by young postdoctoral researchers and PhD students at CRM, held its first session.
The first invited speaker was Mar Giralt Miron, PhD student from the Universitat Politècnica de Catalunya under the supervision of CRM affiliated researchers Marcel Guardia and Inma Baldomà. She gave a talk on chaotic dynamics, exponentially small phenomena and celestial mechanics, where she presented a method to analyze the distance and transversality between certain stable and unstable manifolds when a small perturbation is added to an integrable system, and its application to a celestial mechanics problem.
This seminar series, which will be held periodically at CRM, aims at offering young researchers in mathematics a forum to share their work and exchange experiences in an informal setting. All in all, the first session of the SIJIMath seminar gathered 20 participants, both online and onsite.
The next session has already been announced, with the participation of CRM Postdoctoral researcher Angélica Torres. If you wish to stay updated for the following seminars, you can check the SIJIMat website, or you can join the CRM mailing list to receive news and information about activities organized by the CRM.

CRM Comm Team
Anna Drou | Pau Varela
Subscribe for more CRM News
Stay updated to our mailing list to get the lastest information about CRM activities.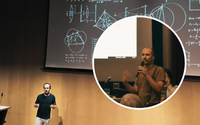 El Centre de Recerca Matemàtica va participar a la Nit de la Recerca Europea, un esdeveniment públic destinat a acostar la ciència i la investigació a públics de totes les edats i difondre la innovació d'una...