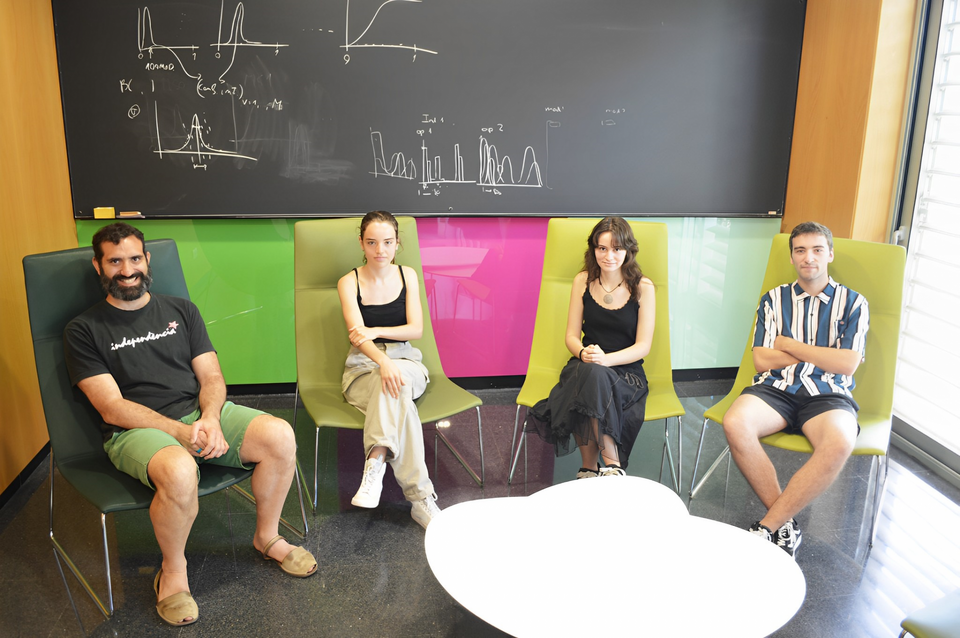 D'esquerra a dreta: David Romero (CRM KTU), Aran Terrades, Irina Espasa i Pau Reig (CRM KTU).
Irina Espasa, guanyadora del Premi Extraordinari de Batxillerat 2022, Aran Terrades, estudiant de l'Escola Virolai, han realitzat aquest mes de juliol estades amb la unitat de transferència del coneixement del CRM per conèixer de primera mà la recerca matemàtica.
El Centre de Recerca Matemàtica acull des de fa anys joves talents científics a través de diversos programes que permeten a estudiants de secundària i batxillerat acostar-se a la recerca. Durant períodes que van des d'una setmana a un mes sencer, aquests estudiants poden viure en primera persona l'activitat dels diferents grups de recerca del centre i, fins i tot, col·laborar en petits projectes.
Durant aquest mes de juliol dos estudiants han visitat el centre per treballar amb la unitat de transferència del CRM. Aran Terrades, estudiant de batxillerat de l'escola Virolai de Barcelona, ha realitzat la seva estada gràcies al programa INNOBAT, en el que col·labora CERCA. Aquest programa proposa impulsar l'aprenentatge més enllà dels límits tradicionals de l'aula, fomentant la curiositat i estimulant l'adquisició de competències en altres àmbits. Aquesta col·laboració serveix també per acostar als alumnes i als professors al fascinant món de la recerca que es fa a Catalunya i al dia a dia d'una carrera investigadora. Les activitats de recerca es converteixen en una oportunitat real d'immersió en el coneixement i en la pràctica científica, inspirant els estudiants a créixer com a pensadors crítics i apassionats aprenents.
També durant aquest juliol ha dut a terme la seva estada Irina Espasa, guanyadora del premi extraordinari de batxillerat 2022. Aquests premis estan organitzats pel Departament d'Educació de la Generalitat de Catalunya en col·laboració amb l'Associació Catalana d'Entitats de Recerca (ACER) i s'obtenen de superar unes proves específiques només accessibles a alumnat amb notes mitjanes de batxillerat per sobre del 8,5, amb l'objectiu de ser reconeixement oficial dels mèrits dels alumnes que demostren una preparació especial en aquests ensenyaments. Irina, antiga estudiant de l'institut Jaume Balmes de Barcelona, es troba actualment cursant primer any de matemàtiques a la Universitat de Barcelona.
Durant la seva estada, Irina i Aran han tingut l'oportunitat d'immersió total en l'entorn investigador del centre, compartint el dia a dia amb l'equip de la KTU. David Romero, doctor en matemàtiques i responsable de serveis cientificotècnics, i Pau Reig, desenvolupador de programari científic en col·laboració amb el grup de recerca en Biologia Matemàtica i Computacional del CRM, han fet d'amfitrions de totes dues estudiants.
Activitats com aquesta compleixen un paper fonamental per tal de fomentar les carreres científiques entre els i les joves estudiants del país, al mateix temps que serveixen per garantir el retorn i l'impacte de la recerca en la societat. La participació dels investigadors en activitats que acosten la recerca a la ciutadania és crucial per promoure la comprensió pública de la ciència i fomentar l'interès en la investigació. Aquesta interacció permet als ciutadans conèixer de primera mà les implicacions pràctiques de la recerca i la seva rellevància en la vida quotidiana. A més, promou una comunicació bidireccional que enriqueix el procés científic amb perspectives diverses i potencials idees innovadores.

Subscribe for more CRM News
Stay updated to our mailing list to get the lastest information about CRM activities.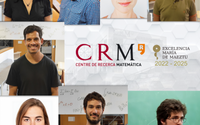 We start the academic year 2023-24 with the addition of eight new researchers to our groups, all of them from different backgrounds and expertise. This new batch of talent joining our community includes four postdoctoral fellows hired thanks to the Maria de Maeztu...