Martínez es converteix en gerent del CRM, després de tres anys com a responsable de projectes del centre i amb una àmplia trajectòria en centres d'investigació.
El Centre de Recerca Matemàtica (CRM) ha nomenat Gemma Martínez Barrera com la seva nova Gerent. Martínez compta amb una àmplia trajectòria en gestió al món de la recerca, com a responsable d'economia i finances de l'Institut Universitari d'Estudis Europeus, i al departament de projectes de l'Institut de Microelectrònica de Barcelona (IMB-CNM, CSIC). Els últims tres anys ha exercit com a responsable de projectes del CRM.
La seva experiència prèvia, de més de vint anys, ha forjat una sòlida base per al seu nou rol al CRM. En aquest sentit, Martínez considera que "haver estat tants anys en centres de recerca i en diferents departaments m'ha donat una visió molt àmplia del que implica la gestió d'un centre, i això em servirà per entendre millor les necessitats de cadascun dels departaments".
Com a gerent del CRM, el seu lideratge serà clau en la gestió de personal, econòmica, comptable i pressupostària, per tal de garantir els estàndards més alts d'integritat, transparència i compliment dels requisits legislatius i reglamentaris, i consolidar mecanismes per brindar un servei eficient a la comunitat matemàtica.
El punt de partida ha de ser detectar les fortaleses per continuar potenciant-les i avaluar les debilitats perquè deixin de ser-ho, sempre comptant amb l'equip humà del CRM
Un moment d'expansió per al CRM
El centre es troba immers en un procés de creixement, impulsat pel projecte d'Excel·lència Maria de Maeztu atorgat al CRM en la convocatòria de 2020. Segons Martínez, aquest reconeixement "és un premi a l'esforç d'un equip que treballa dia a dia per donar el millor de si mateix. Si a aquest reconeixement li afegim que en els últims anys els investigadors del centre han aconseguit molts projectes, això implica que estem vivint un creixement exponencial que hem de saber gestionar a tots els nivells, i crec que ens ho hem de prendre com un repte i, alhora, com una oportunitat".
La seva formació multidisciplinària, com a llicenciada en ciències econòmiques per la Universitat Autònoma de Barcelona, en història de l'art i diplomada en relacions laborals, i la seva dedicació la converteixen en la persona idònia per impulsar el desenvolupament i l'excel·lència del CRM. Sobre els objectius futurs que haurà de fer front el centre, la nova gerent parla de la importància d'establir "una bona base de confiança des de l'inici del projecte, i això implica que ha d'existir una evident alineació amb la direcció del centre per poder assolir els objectius principals. També és bàsic que aquesta relació de confiança existeixi amb els investigadors del centre, amb l'equip de suport i tothom que treballi directament o indirectament amb el CRM."
El Centre de Recerca Matemàtica s'enorgulleix de donar la benvinguda a Gemma Martínez Barrera i espera amb entusiasme les fites i avenços que s'assoliran sota el seu lideratge. Junts, estan preparats per assolir nous nivells de competitivitat i consolidar-se com un referent en la recerca matemàtica en l'àmbit nacional i internacional.

CRM Comm Team
Anna Drou | Pau Varela
CRMComm@crm.cat
Subscribe for more CRM News
Stay updated to our mailing list to get the lastest information about CRM activities.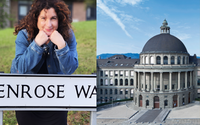 Eva Miranda, a Full Professor at the Universitat Politècnica de Catalunya and affiliated researcher at CRM, has been invited to give a lecture in the Nachdiplom series at ETH Zurich. Her lecture, titled "Singular Symplectic Manifolds," is scheduled for the fall of 2025 and is expected to delve into the intricacies of this complex topic, a subject she has extensively researched since 2009.