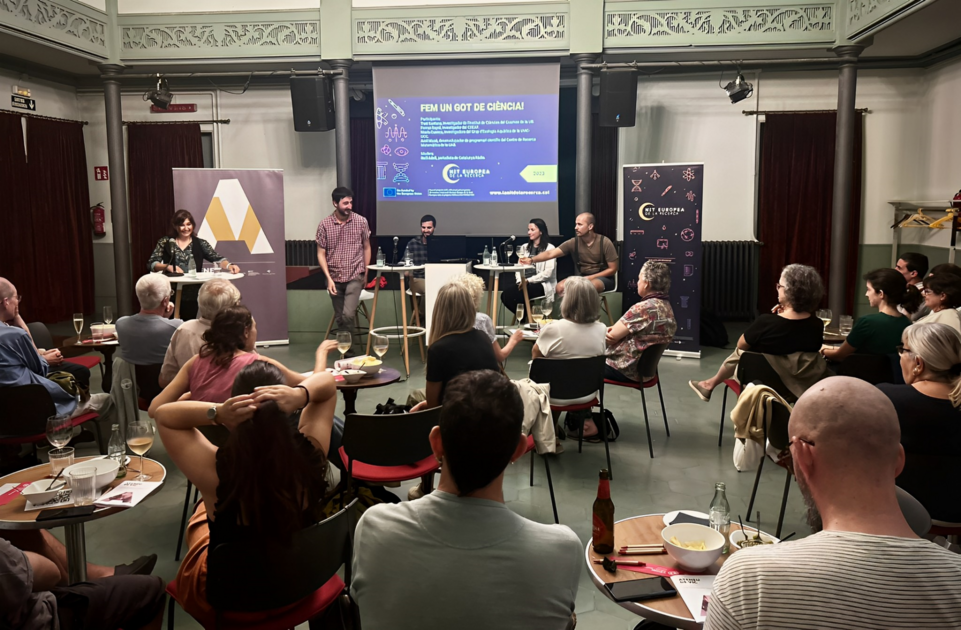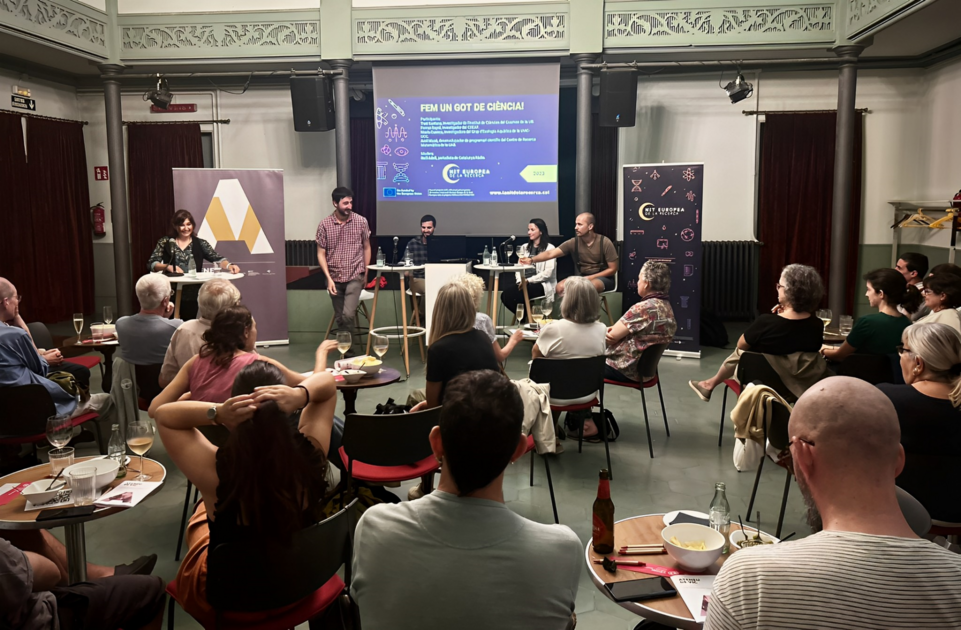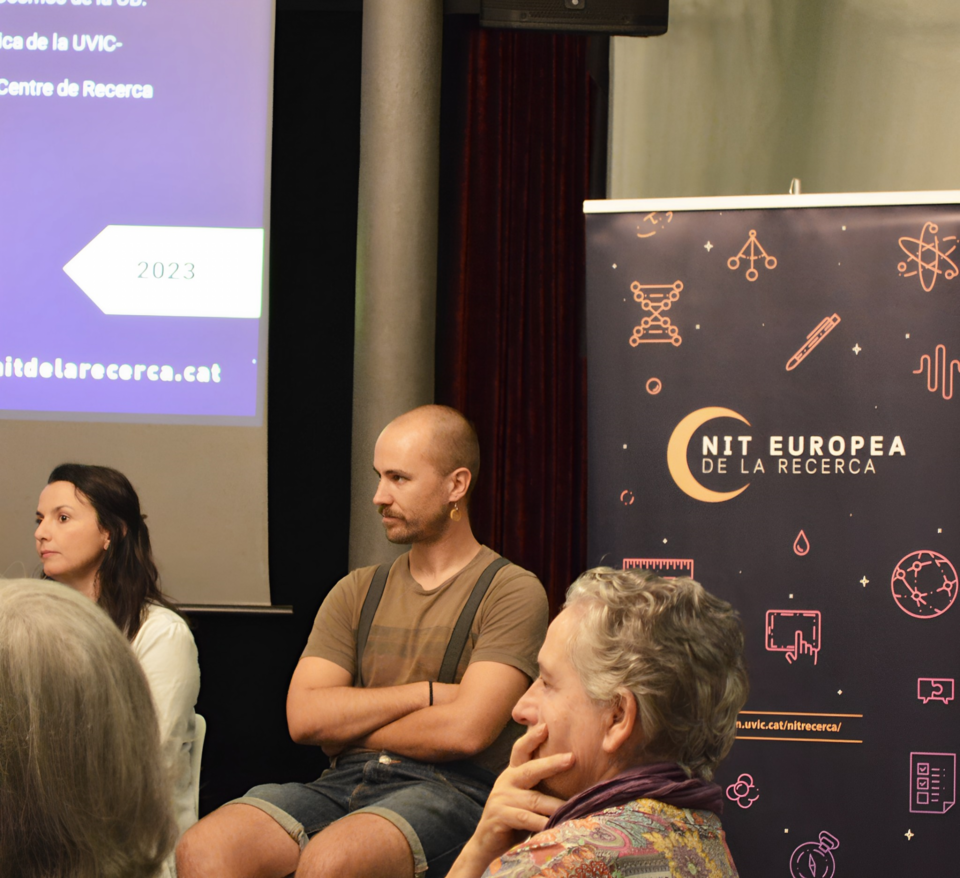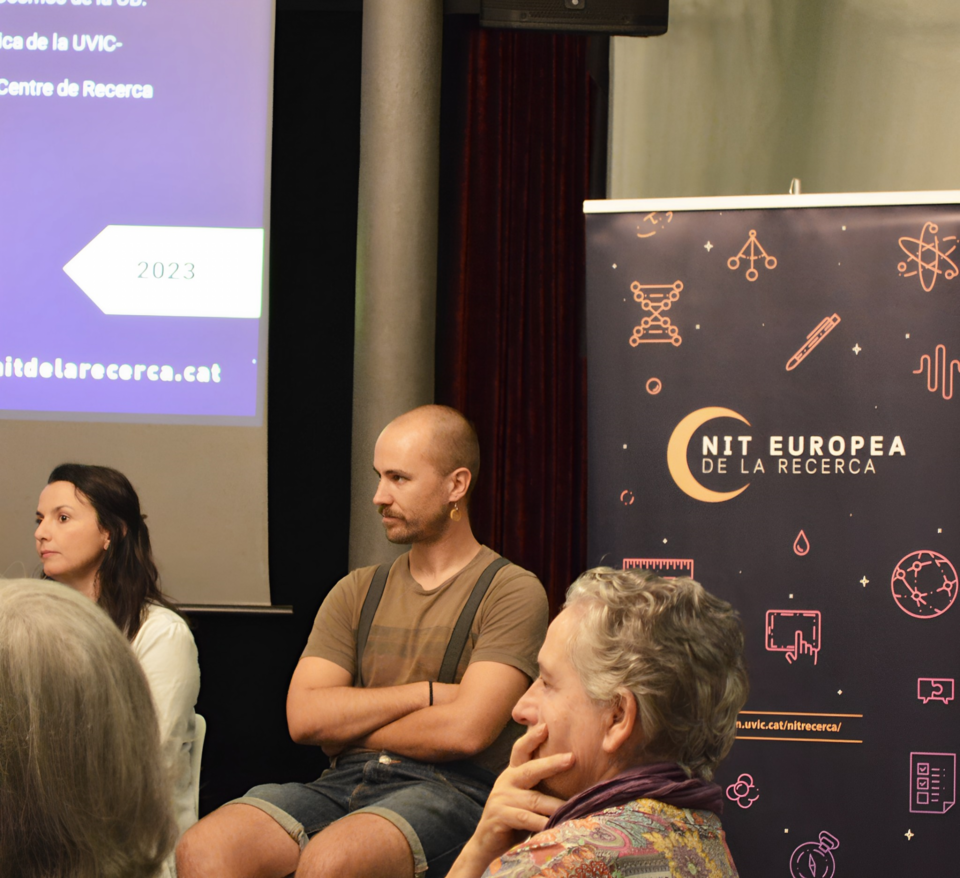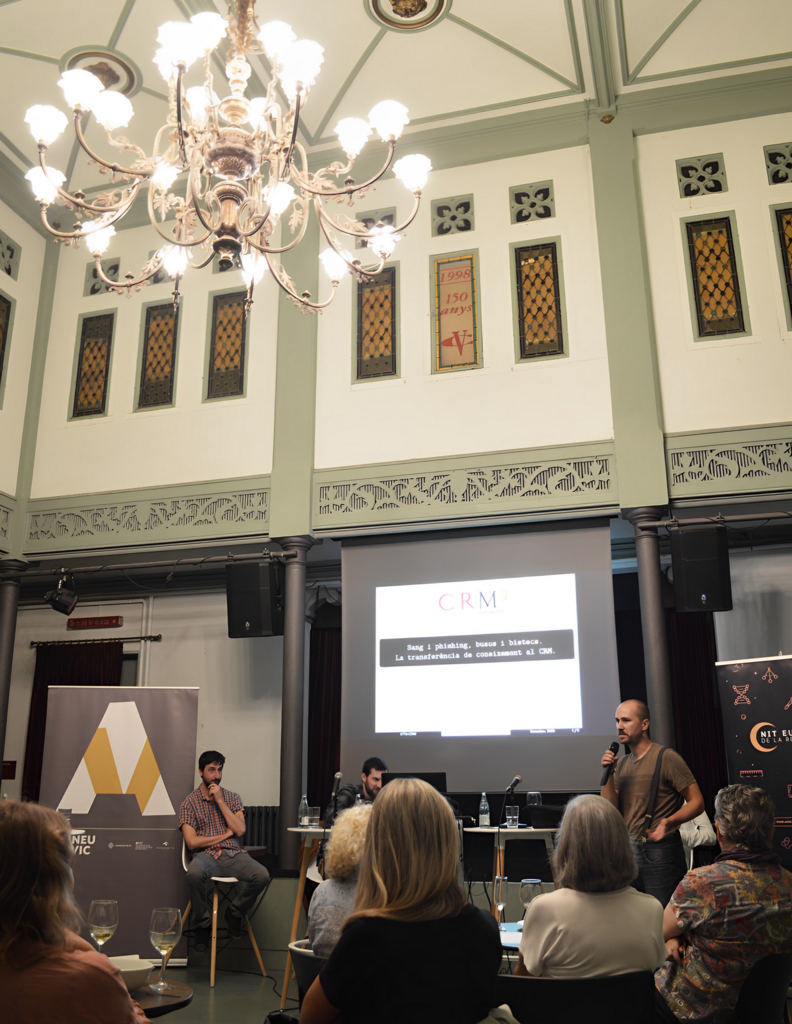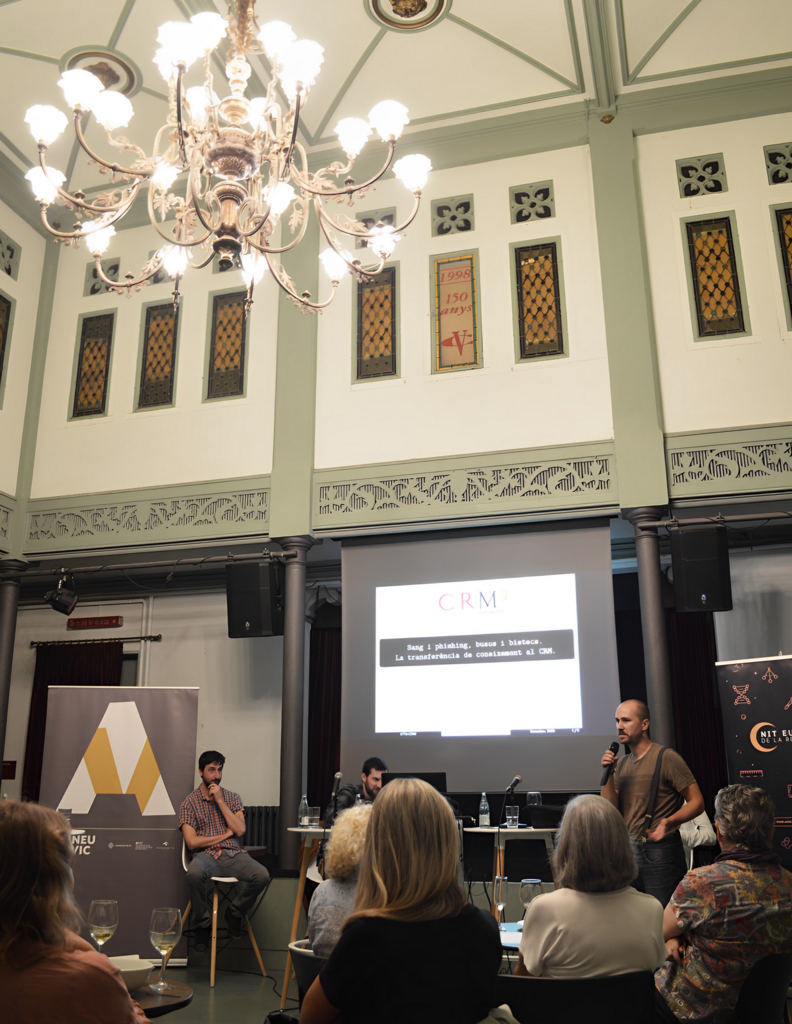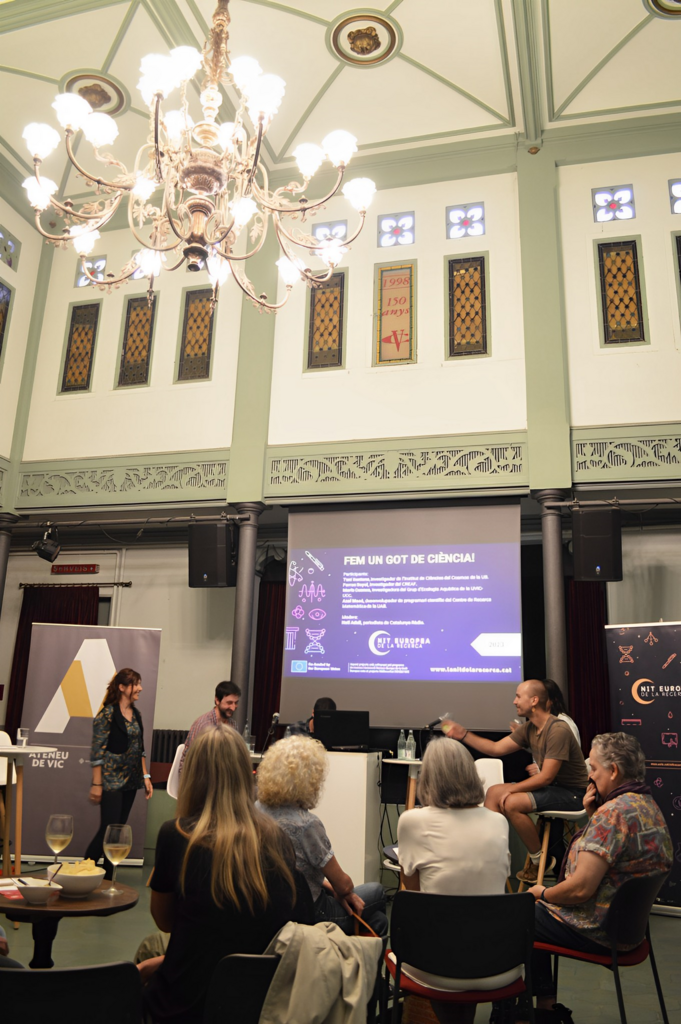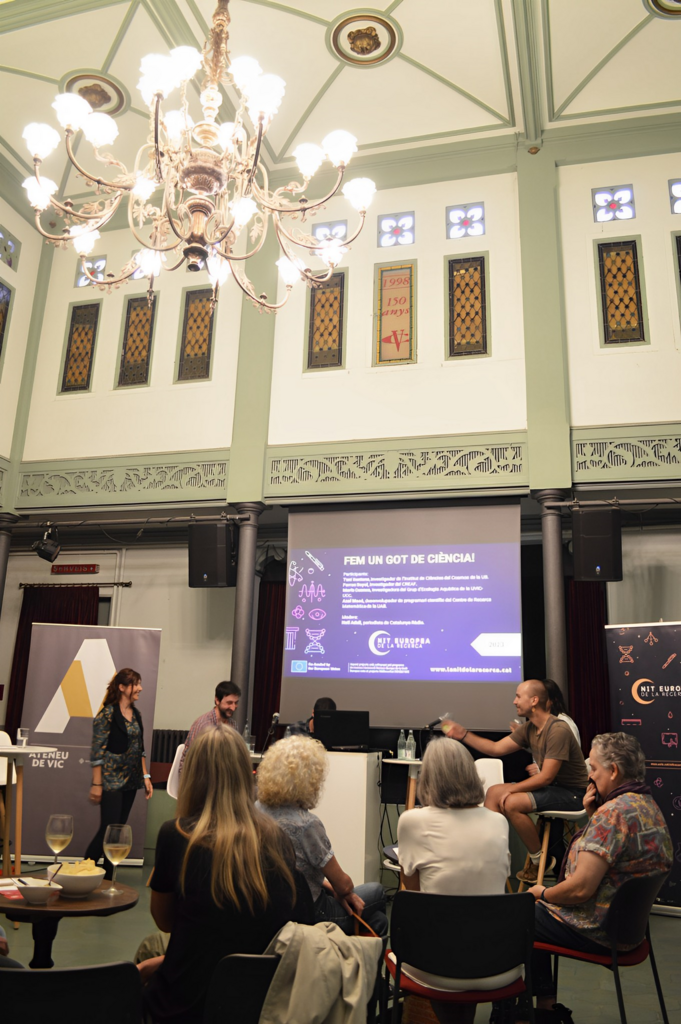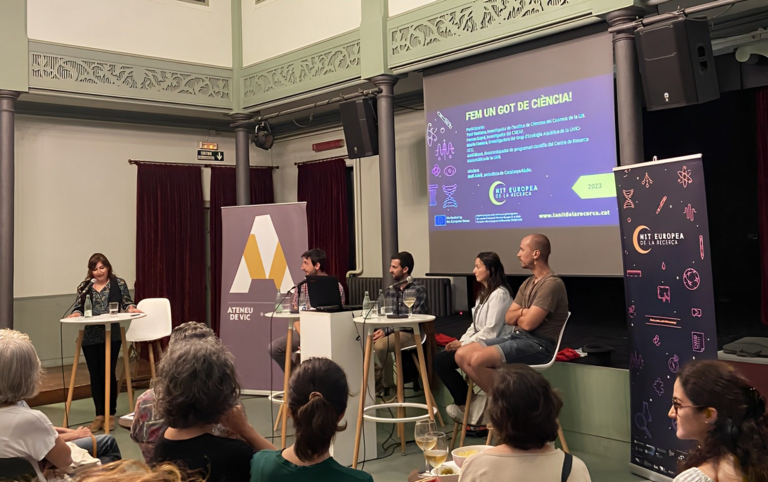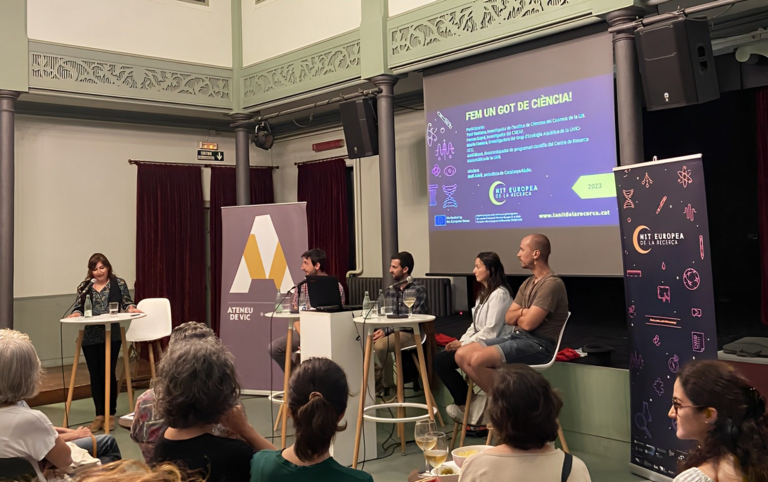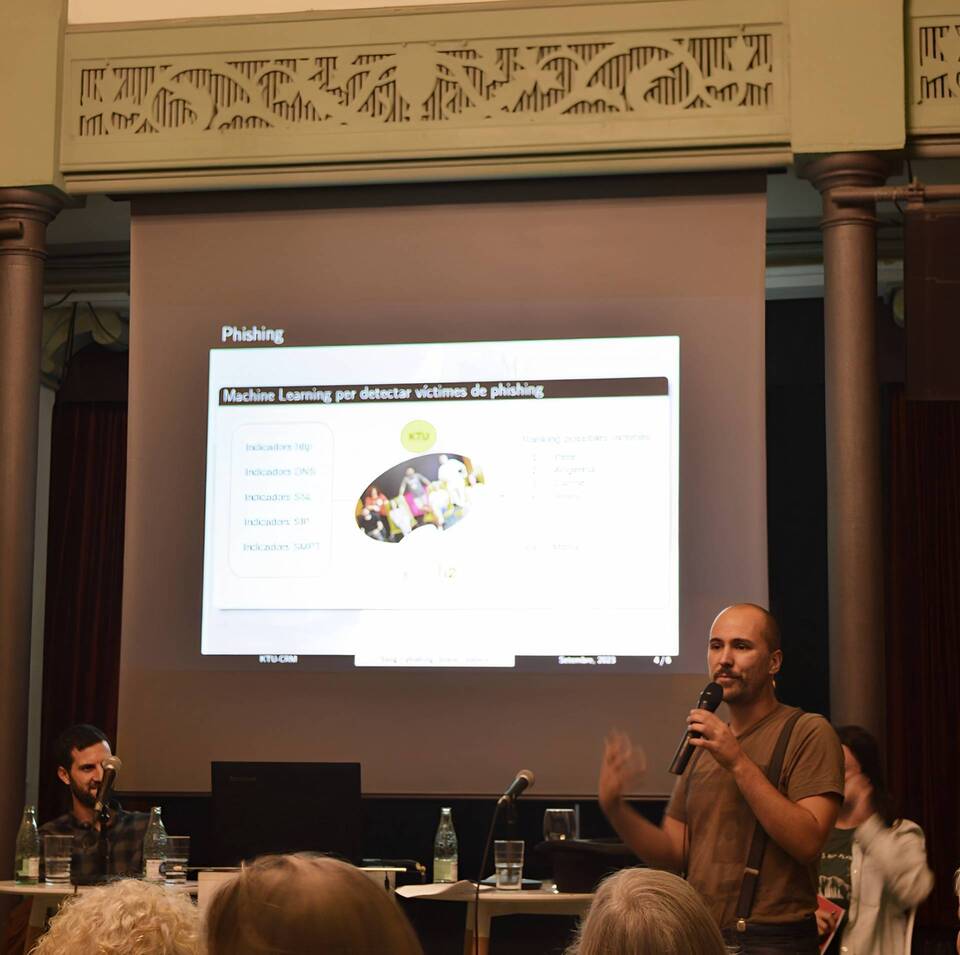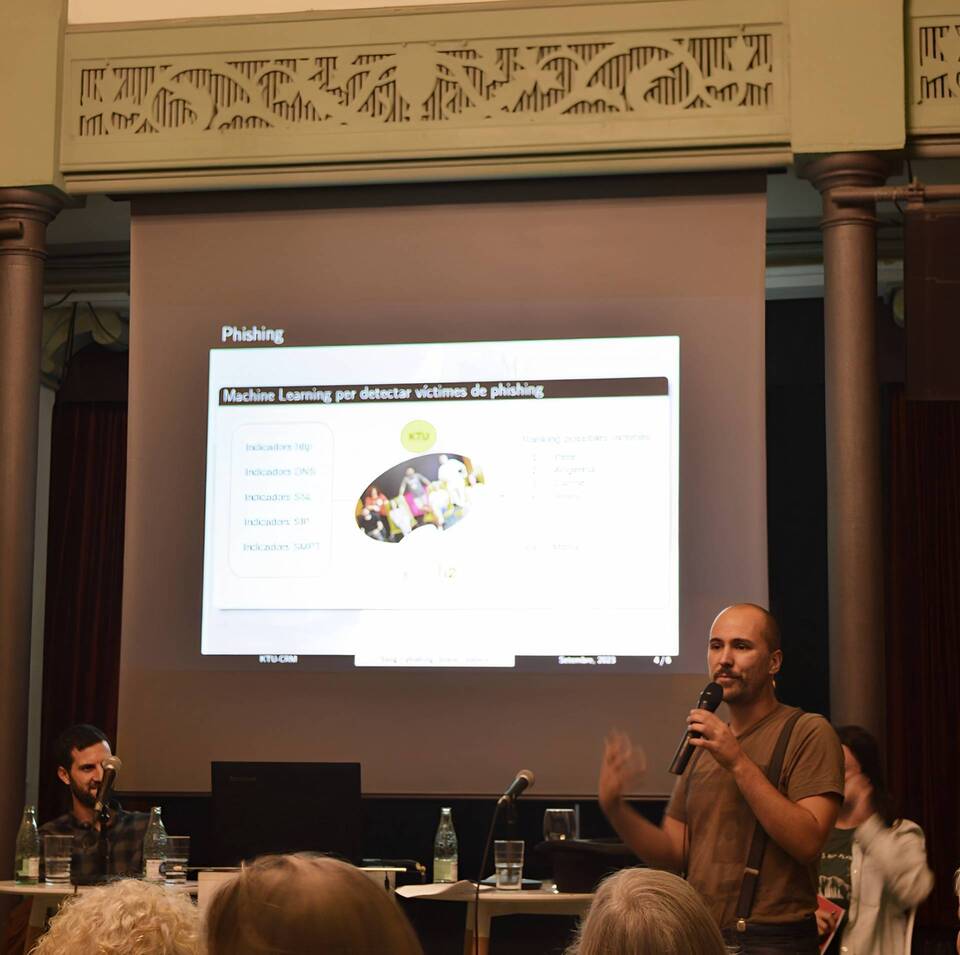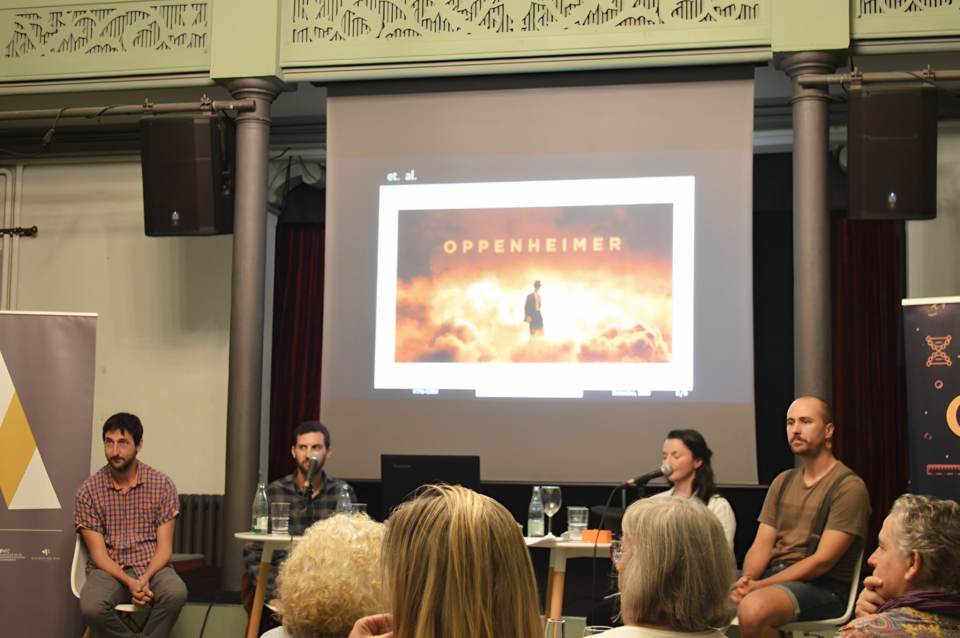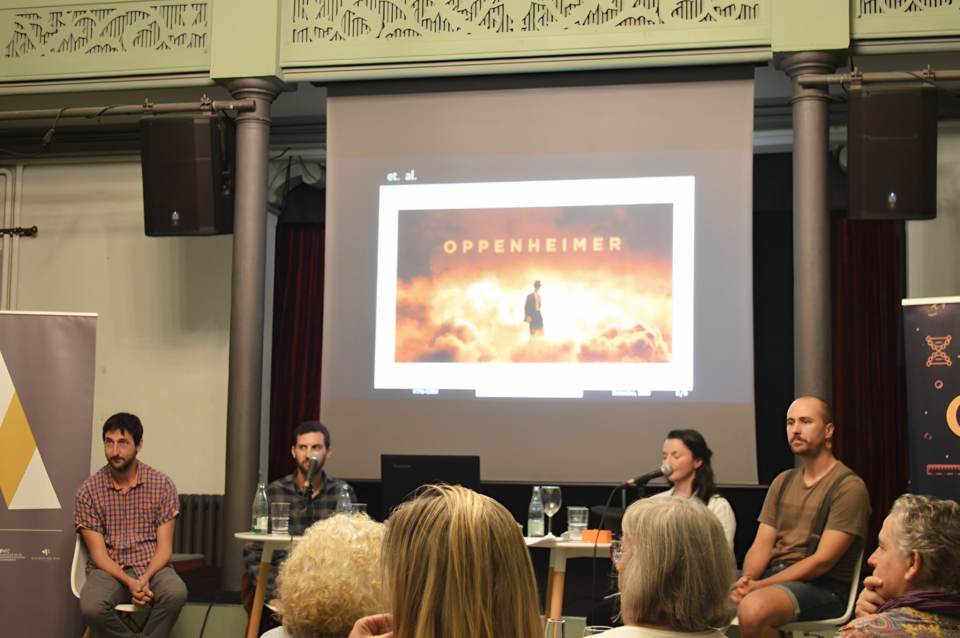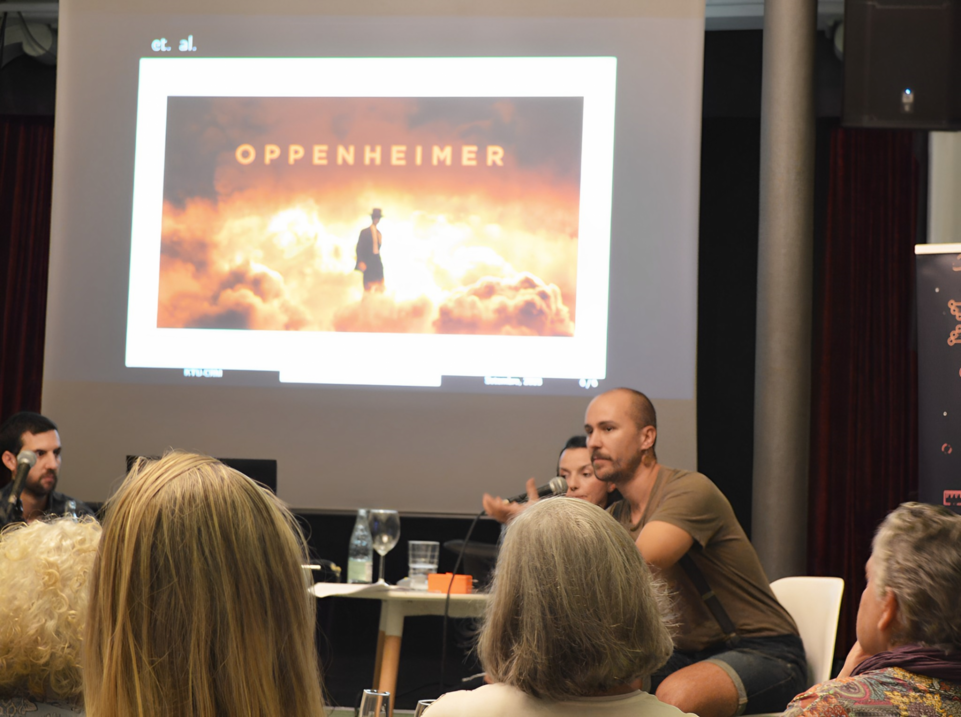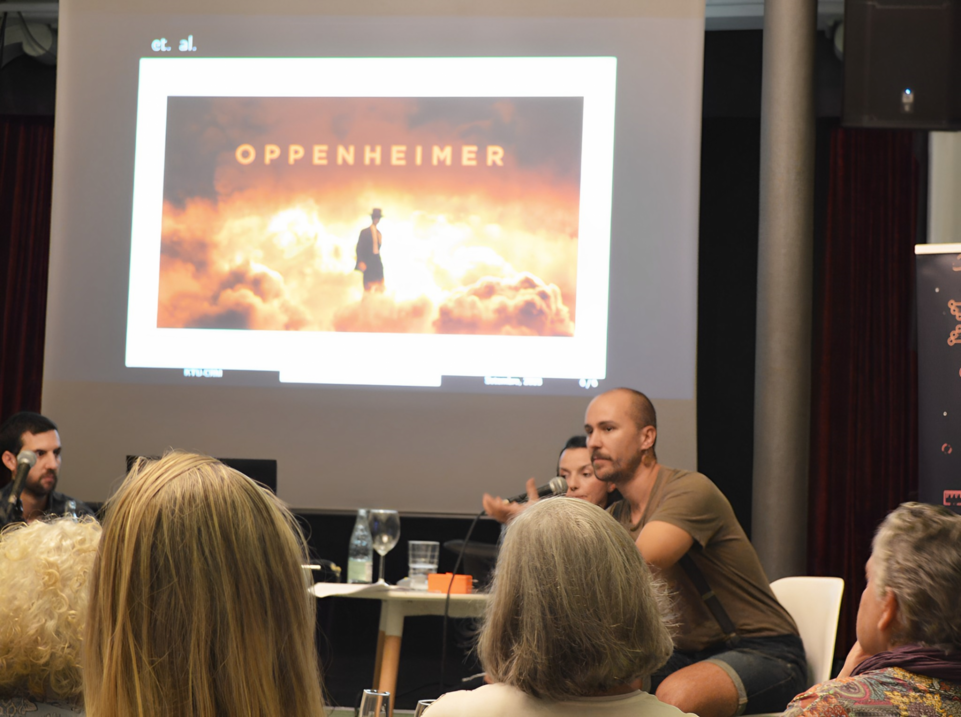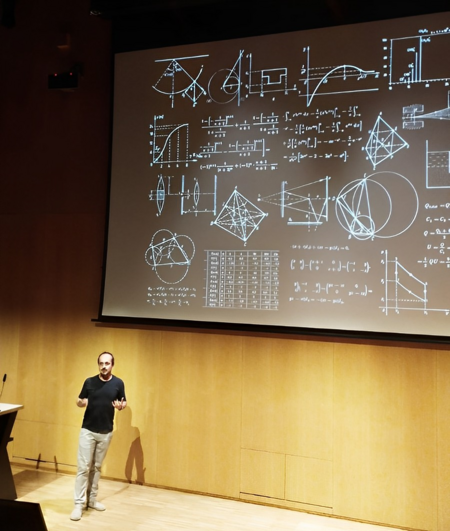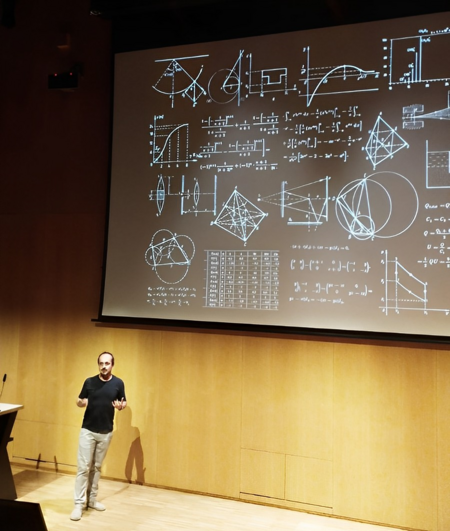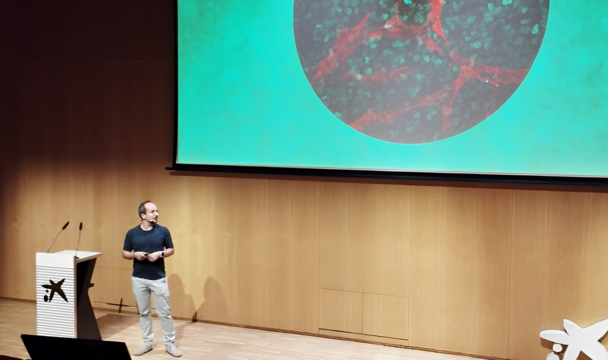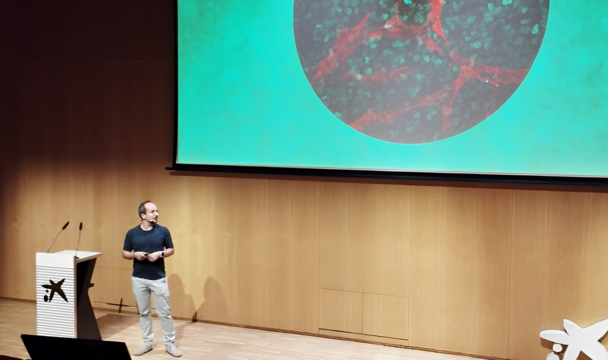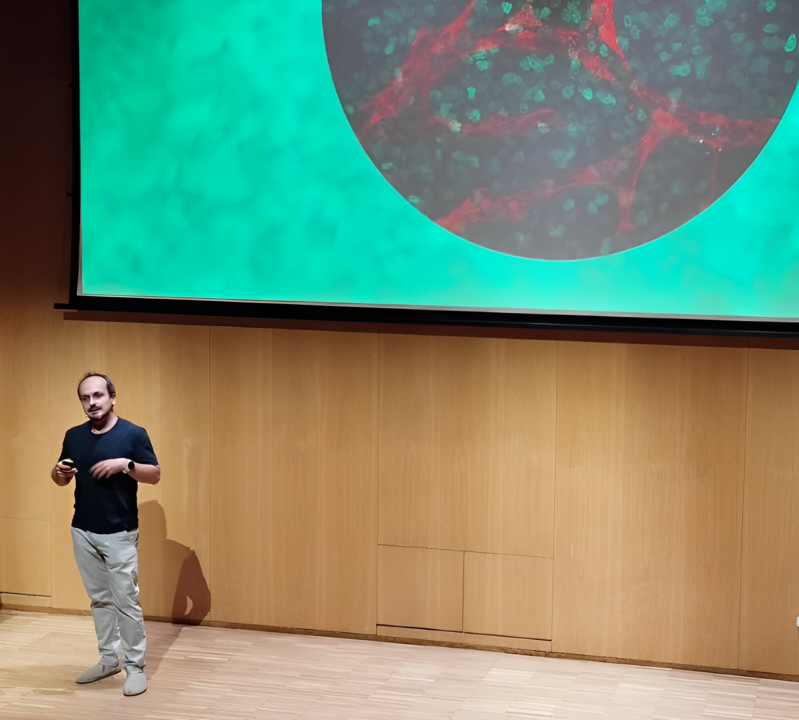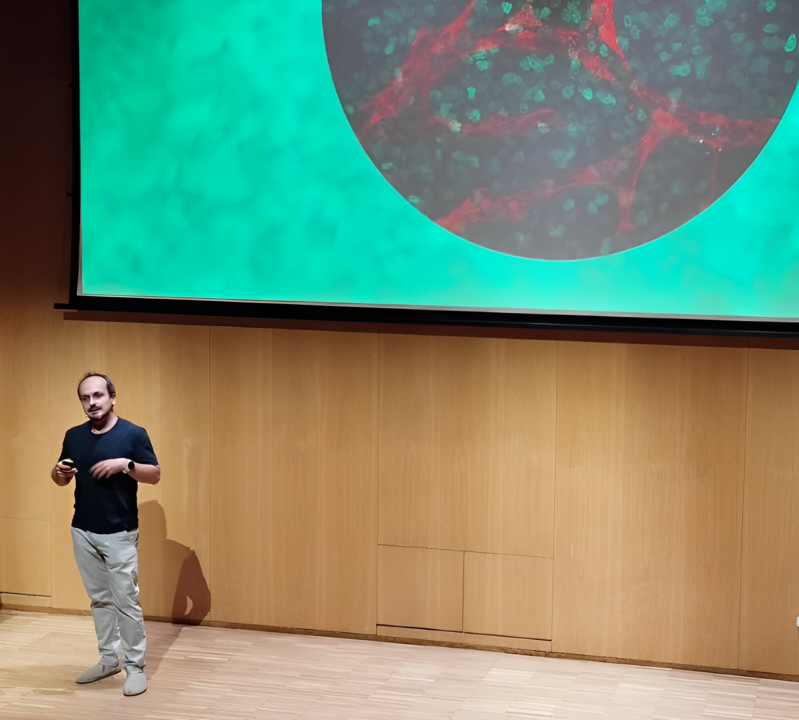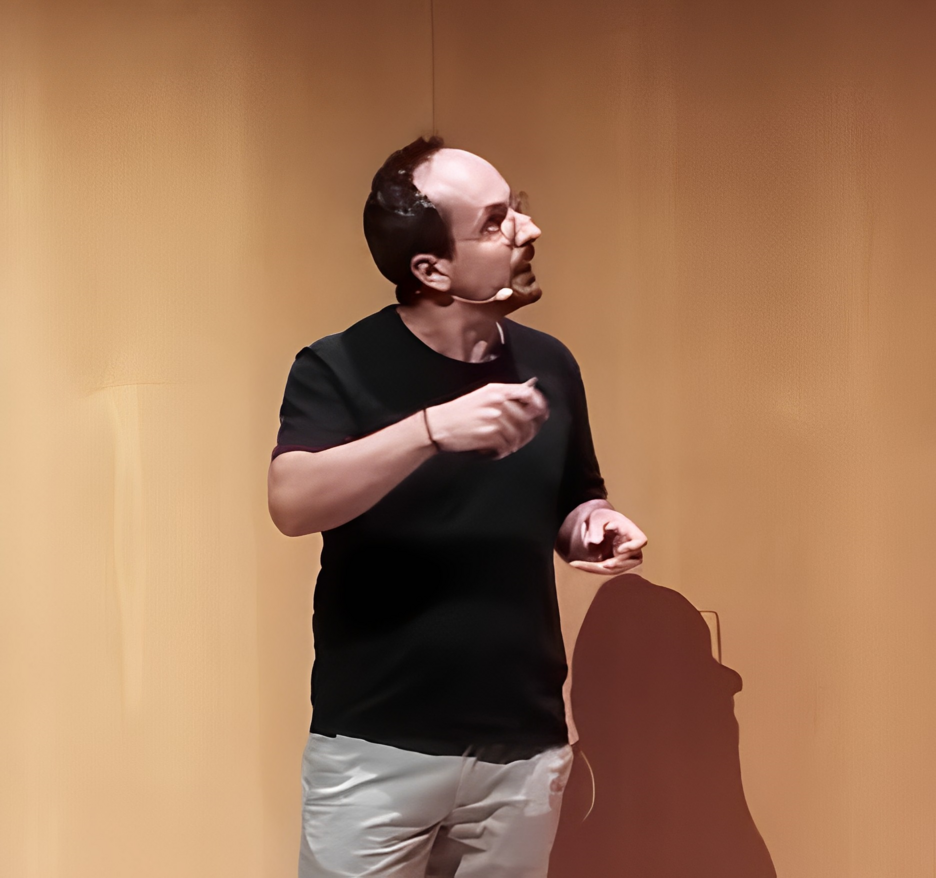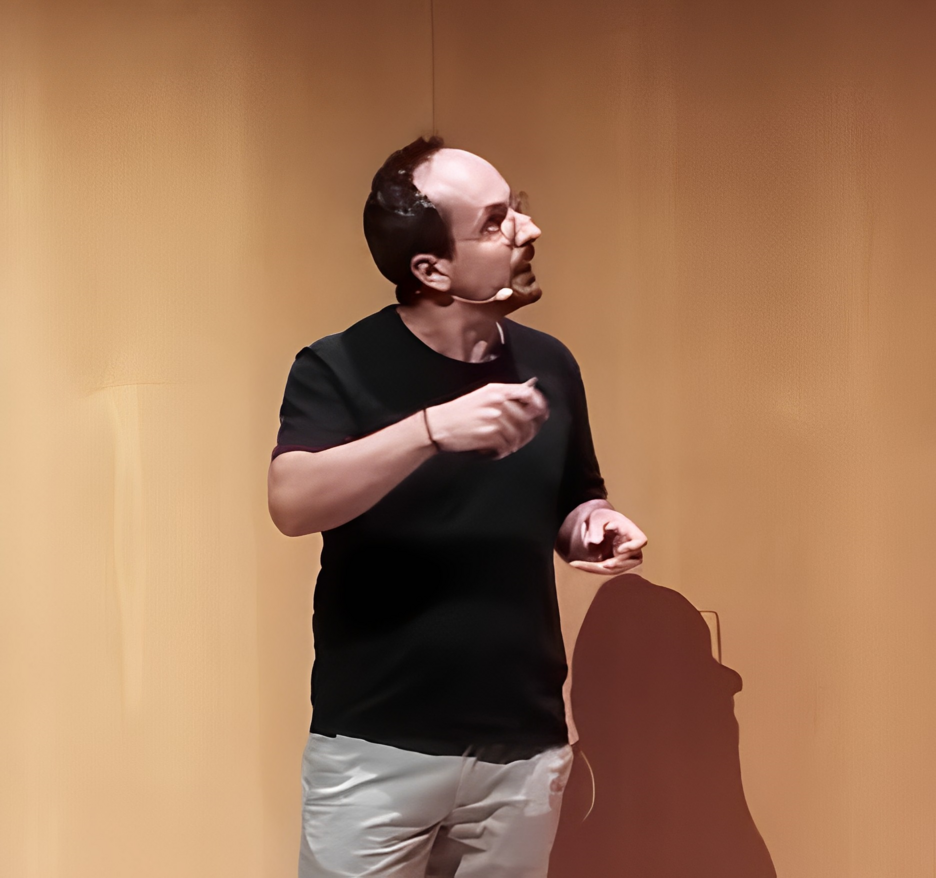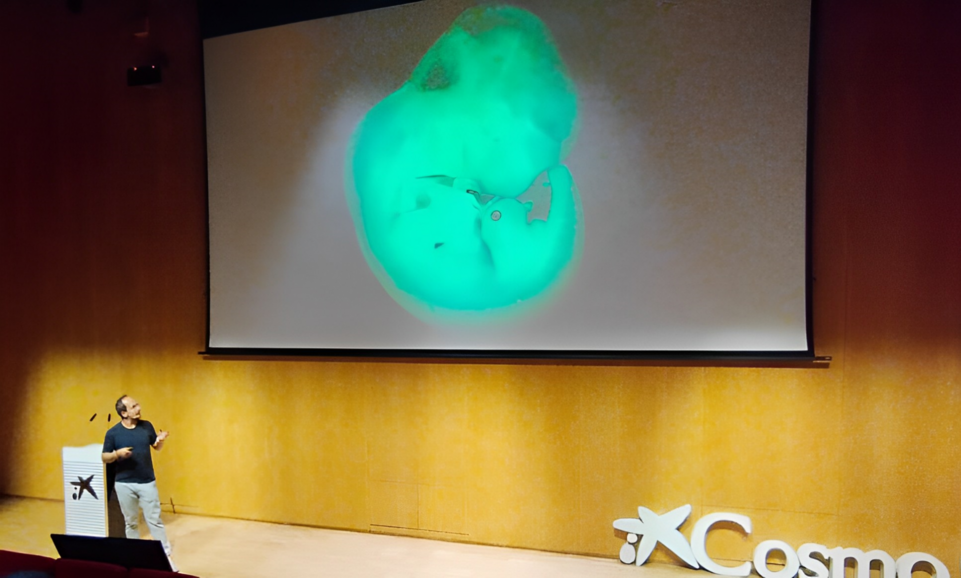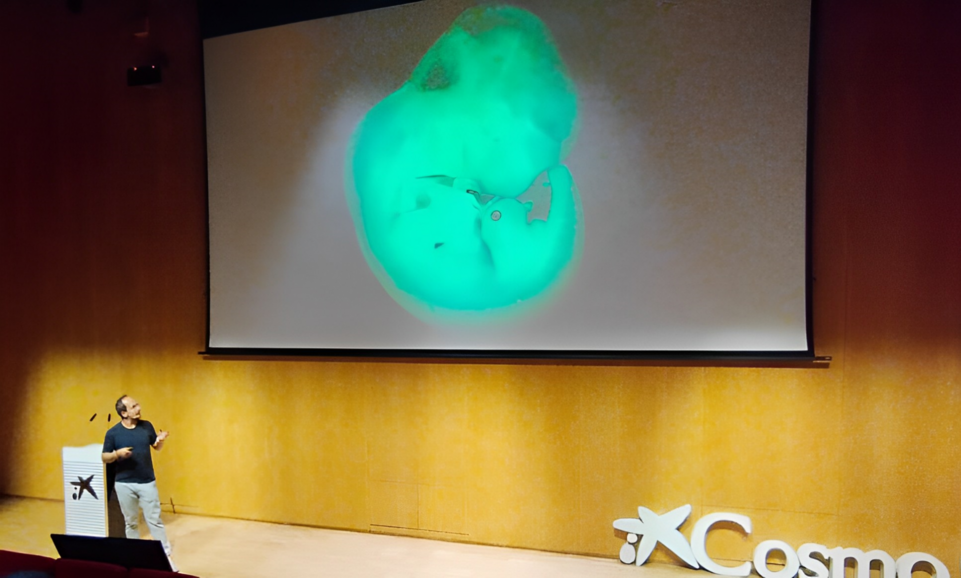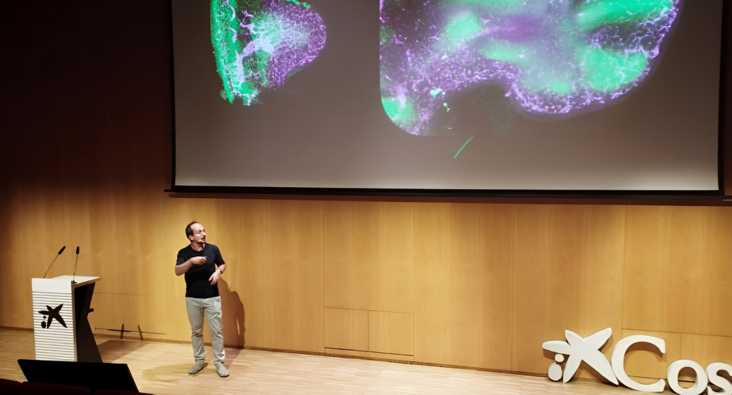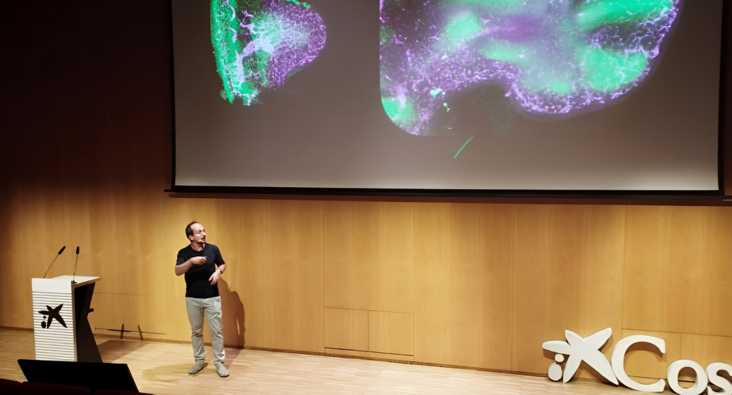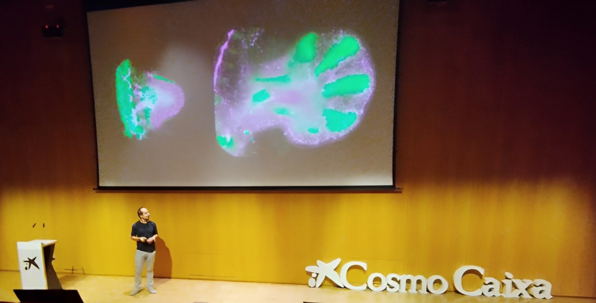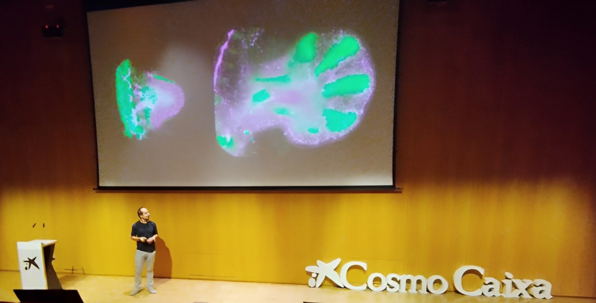 nitrecercat23_61
Axel Masó durant el Got de Ciència al Casino de Vic
nitrecercat23_141
Giovanni Dalmasso al Museu de la Ciència CosmoCaixa, durant la Nit de la Recerca Europea














El Centre de Recerca Matemàtica va participar a la Nit de la Recerca Europea, un esdeveniment públic destinat a acostar la ciència i la investigació a públics de totes les edats i difondre la innovació d'una manera accessible i entretinguda. Els investigadors Axel Masó i Giovanni Dalmasso van mostrar com les matemàtiques tenen una aplicació vital en una àmplia gamma de àrees, des de la salut fins al transport i la biologia.
El Centre de Recerca Matemàtica (CRM) va estar un any més present a les activitats organitzades durant la Nit de la Recerca Europea, un esdeveniment públic que es celebra l'últim divendres de setembre i que és, des de fa anys, una cita fonamental per a tots els amants de la ciència i la investigació a tota Europa. Durant aquesta edició, el CRM va participar a través de la seva Unitat de Transferència de Coneixement (KTU), representada per Axel Masó, desenvolupador de software científic del CRM, i pel grup de recerca en Biologia Matemàtica i Computacional, a través de l'investigador Postdoctoral Giovanni Dalmasso.
Dijous passat, 28 de setembre, Masó va oferir una xerrada a la Sala Modernista del Casino de Vic sobre les diverses maneres en què les matemàtiques s'estan utilitzant per resoldre problemes concrets plantejats per la societat. La seva xarrada fa formar part del programa ofert en el marc del Got de Ciència, organitzat per la UVic-UCC amb la col·laboració de l'Ateneu de Vic.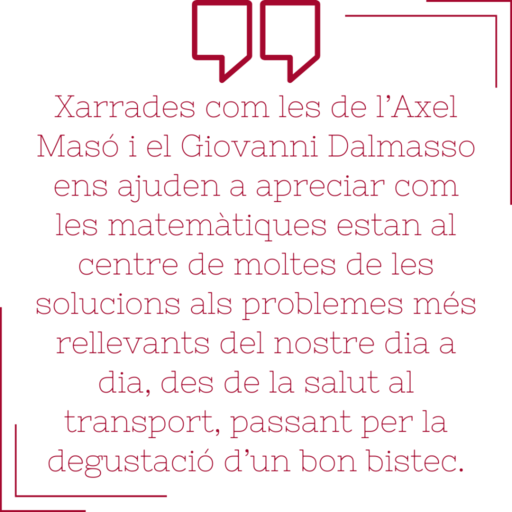 Una de les àrees en les què el CRM ha estat treballant des de fa anys és la detecció de malalties mitjançant l'estudi de les propietats de la sang. Masó va explicar com les matemàtiques s'apliquen per identificar i comprendre els patrons i les anomàlies que poden indicar la presència de malalties, permetent així una detecció més precisa i precoç. Un altre dels projectes destacats de la KTU és l'optimització de la xarxa d'autobusos de Barcelona, utilitzant mètodes matemàtics per millorar l'eficiència del transport públic i reduir la congestió del trànsit, al mateix temps que es busca garantir una experiència satisfactòria per als usuaris.
Un altre front on el CRM està contribuint és la prevenció d'atacs de phishing, utilitzant models matemàtics per predir i contrarestar aquesta amenaça en línia que afecta moltes persones. L'últim projecte que Masó ens va presentar durant la seva xarrada demostra que les aplicacions de les matemàtiques no tenen fronteres, arribant fins i tot a la nostra cuina. Masó va explicar com el CRM està treballant en fer de la cocció de la carn un procés més eficient, mitjançant l'ús de models de transferència de calor per aconseguir el punt perfecte de cocció.
Masó també va plantejar la reflexió sobre què és en realitat la transferència del coneixement, posant en relleu la importància d'aquesta pregunta per evitar exemples potencialment perjudicials.
Les matemàtiques en el desenvolupament del cos humà
A més d'això, la nit de divendres 29 de setembre vam poder comptar amb la xerrada de Giovanni Dalmasso durant les activitats acollides al Museu de la Ciència CosmoCaixa a Barcelona. Dalmasso va oferir una visió emocionant sobre la investigació que es realitza en el camp de la biologia i les matemàtiques, destacant com les molècules i els processos biològics es poden entendre millor mitjançant la modelització matemàtica.
En concret ens va oferir un tast sobre un dels misteris que amaga el desenvolupament del cos humà durant la gestació. Quan els ossos a les nostres extremitats comencen a formar-se, alguns dels vasos sanguinis misteriosament s'encongeixen i desapareixen de mans i peus.
Científics com ell utilitzen les matemàtiques per entendre com creixen i canvien els vasos sanguinis del nostre cos, combinant experiments al laboratori i resultats matemàtics per aprendre encara més sobre com es formen les nostres extremitats i per què de vegades els vasos sanguinis desapareixen. Al fer front a aquests misteris, el científics esdevenen gairebé detectius en busca de les pistes que permetin oferir respostes.
La Nit de la Recerca Europea és un esdeveniment fonamental per a la divulgació de la ciència i la promoció de la investigació a Europa, i gràcies als nostres investigadors i investigadores seguim treballant per acostar les matemàtiques a la societat. Xarrades com les de l'Axel Masó i el Giovanni Dalmasso ens ajuden a apreciar com les matemàtiques estan al centre de moltes de les solucions als problemes més rellevants del nostre dia a dia, des de la salut al transport, passant per la degustació d'un bon bistec.

Subscribe for more CRM News
Stay updated to our mailing list to get the lastest information about CRM activities.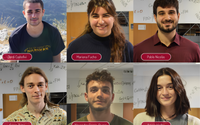 The Centre de Recerca Matemàtica (CRM) welcomes a dynamic group of members, including Jordi Castellví in Combinatorics, Mariona Fucho Rius as the new Scientific Comm Officer, Alexandre Garcia-Duran in Neuroscience, Pablo Nicolás in Algebra and Geometry, Amaia Vielba in Computational Biology, and Søren István Adorján Dyhr in fluid dynamics. Each brings a unique blend of expertise and interdisciplinary focus, enhancing CRM's research landscape in mathematics and its applications.