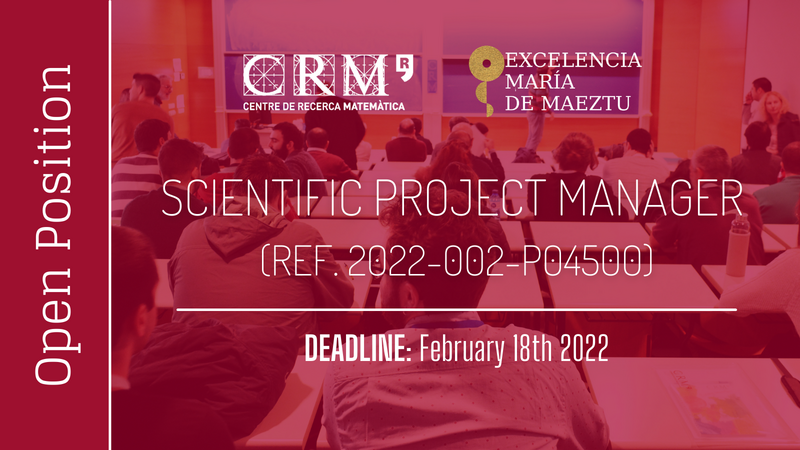 The CRM is looking for a Scientific Project Manager to join the Centre, in the framework of the Strategic Research Programme (SRP) 2022-2025 awarded as María de Maeztu Unit of Excellence (CEX2020-001084-M), with a focus on internationalization and interdisciplinarity.
Applications will be accepted until February 18th 2022. 
Support to the development of new projects aligned with the MdM Unit of Excellence goals. Activities will include identification of suitable funding instruments, consortia making, contributing to grant writing (impact, dissemination, training, reviewing proposals along with budgets and documentation) … etc.
Promotion of competitive funding opportunities across the CRM groups and researchers.
Support to the achievement of the integration and interdisciplinary goals in the CRM MdM, in collaboration with the appointed task forces.
Project management of ongoing competitive-funded projects, such as the MdM itself. Liaising with the funding agencies and/or partners, monitoring their execution, and contributing to reporting.
A PhD in mathematics, statistics, computer science, physics or related topics.
Experience as participant and/or manager in H2020 projects as well as other European schemes (LIFE, ERANETs) and Spanish Agency of Research projects.
Familiar with the European, Spanish and Catalan research and innovation systems (funding agencies and programmes, instruments, calls, etc) and their current policies.
Competences: Teamwork, communication skills.
Excellent command of Spanish and English.
Knowledge of another EU language will be considered a plus.
Desirable: Experience and/or training in innovation management.
Expected starting date:

 

March 15th, 2022

.
Contract finishing on

 

31st December 2025.

Salary: 30,000-36,000 euros/year, according to the candidate´s profile and experience.
The selection process will be evaluated by the CRM Director, the Managing Director and the Executive Director. This process consists in:
1) Admission of candidates: applicants must submit a curriculum vitae (with two possible references) and a cover letter​ by email at crm@crm.cat, (deadline: February 18th 2022) indicating the offer code in the subject.
2) Shortlist: Based on the assessment of the fulfilment of the minimum requirements of the offer.
3) Interview: Evaluation of the shortlisted candidates through a face-to-face interview by a total score according to objective criteria.
4) Appointment: The appointed candidate´s details will be posted at the CRM Careers webpage.