El matemàtic argentí va rebre aquest dimecres el prestigiós Premi Abel, concedit per l'Acadèmia de les Ciències i les Lletres Noruega. És la primera vegada que el Premi Abel es concedeix a una persona d'Amèrica Llatina. El premi li ha estat concedit per "les seves contribucions fonamentals en la teoria de la regularitat per Equacions en Derivades Parcials no lineals, inclosos els problemes de frontera lliure i l'equació de Monge-Ampère". És precisament en aquests temes que ha col·laborat amb els investigadors Xavier Cabré (ICREA-UPC-CRM) i Xavier Ros Oton (ICREA-UB-CRM).
Caffarelli va ser mentor i col·laborador de X. Ros-Oton durant els seus anys de postdoc a la Universitat de Texas a Austin (2014-2017). Les contribucions destacades pel jurat en EDPs i en particular en els problemes de frontera lliure i teoria de la regularitat, són els camps d'estudi de X. Ros-Oton des de fa anys. De fet, en l'article publicat per Nature abans d'ahir, a on expliquen els treballs de Caffarelli, citen el treball de X. Ros-Oton amb Alessandro Figalli (medalla Fields 2018) i Joaquim Serra sobre el problema de Stefan, on perfeccionen els resultats de Caffarelli. L'article, que ha estat acceptat fa pocs dies al Journal of the American Mathematical Society s'explica de manera més divulgativa en aquest article de Quanta Magazine.
Caffarelli també va ser mentor i col·laborador de X. Cabré. La seva col·laboració va començar abans que X. Cabré acabés la seva tesi i en van sortir varis treballs en equacions el·líptiques completament no-lineals. Van escriure conjuntament el llibre 'Fully Nonlinear Elliptic Equations' que va ser AMS best-seller. Una altra col·laboració destacada és la seva recerca sobre equacions no-convexes.

CRM Comm Team
Anna Drou | Pau Varela
Stay updated to our mailing list to get the lastest information about CRM activities.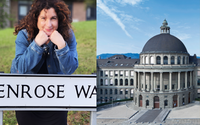 Eva Miranda, a Full Professor at the Universitat Politècnica de Catalunya and affiliated researcher at CRM, has been invited to give a lecture in the Nachdiplom series at ETH Zurich. Her lecture, titled "Singular Symplectic Manifolds," is scheduled for the fall of 2025 and is expected to delve into the intricacies of this complex topic, a subject she has extensively researched since 2009.