El 28 i 29 de maig es va celebrar la 15a edició de la Festa de la Ciència, que aquest any va tenir lloc a la Rambla del Raval de Barcelona. Al llarg dels dos dies i repartides en 27 espais diferents, més de 150 entitats de la ciutat relacionades amb la ciència i la divulgació van organitzar més de 200 activitats entre tallers, debats, jocs, demostracions i espectacles.
Alguns investigadors i l'equip de comunicació del CRM no ens vam voler perdre la Festa ni la oportunitat d'acostar la recerca que es fa al centre a nens i adults. Al llarg del dissabte i el diumenge, vam participar en l'amplíssim catàleg de la Festa amb activitats sobre caos i fractals, Intel·ligència Artificial i neurociència.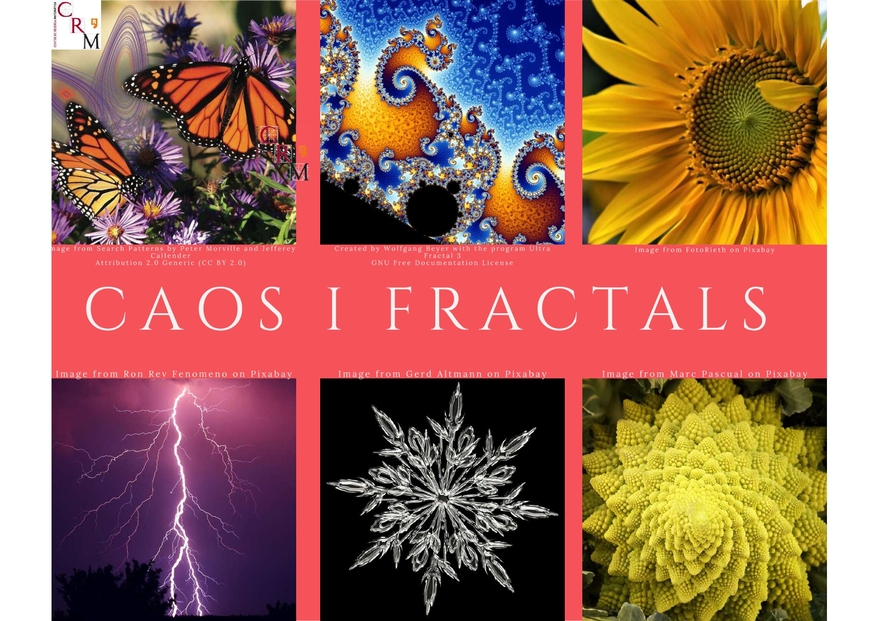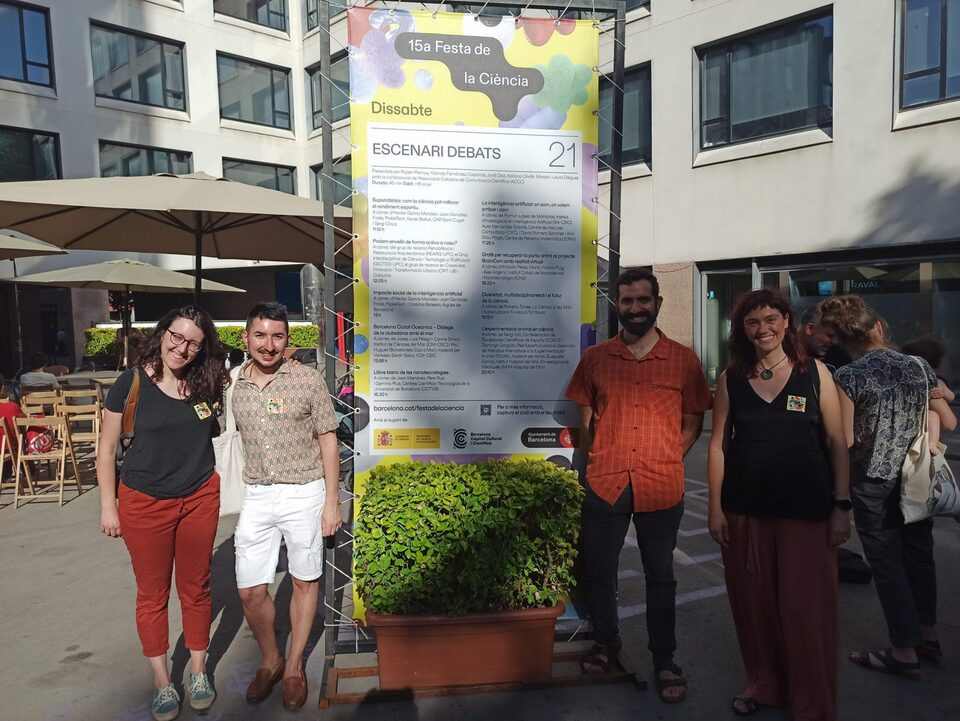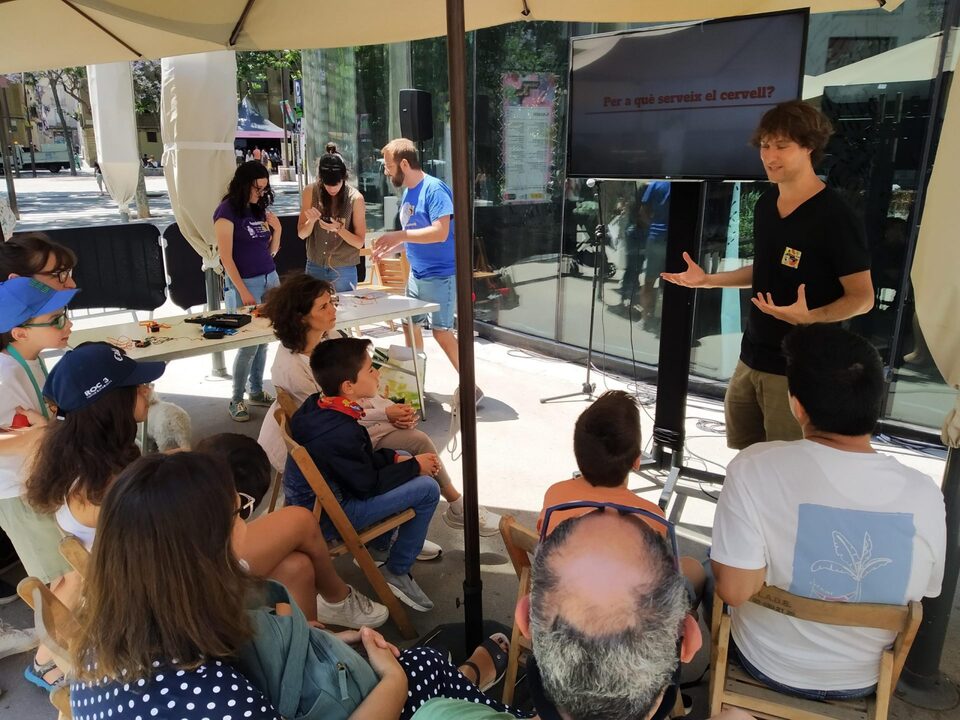 Caos i fractals
L'activitat de caos i fractals, impulsada per en Daniel Ramos, comunicador del CRM, va sorgir amb la intenció d'introduir nens i no tant nens en el món dels fractals, del caos determinista i de la importància de tots dos en la descripció de la natura. 
Per experimentar amb els fractals, els assistents a l'activitat van poder construir una de les primeres corbes fractals que es van descriure, el Floc de Neu de Koch i mitjançant algunes fotografies van poder reflexionar sobre totes les vegades que havien vist estructures fractals a la natura sense ser-ne conscients. 
Per parlar de caos, es van utilitzar dos dels dispostius generadors de caos més senzills, un pèndol doble i un circuit de Chua. El comportament sorprenent dels braços del pèndol doble va fascinar a grans i petits.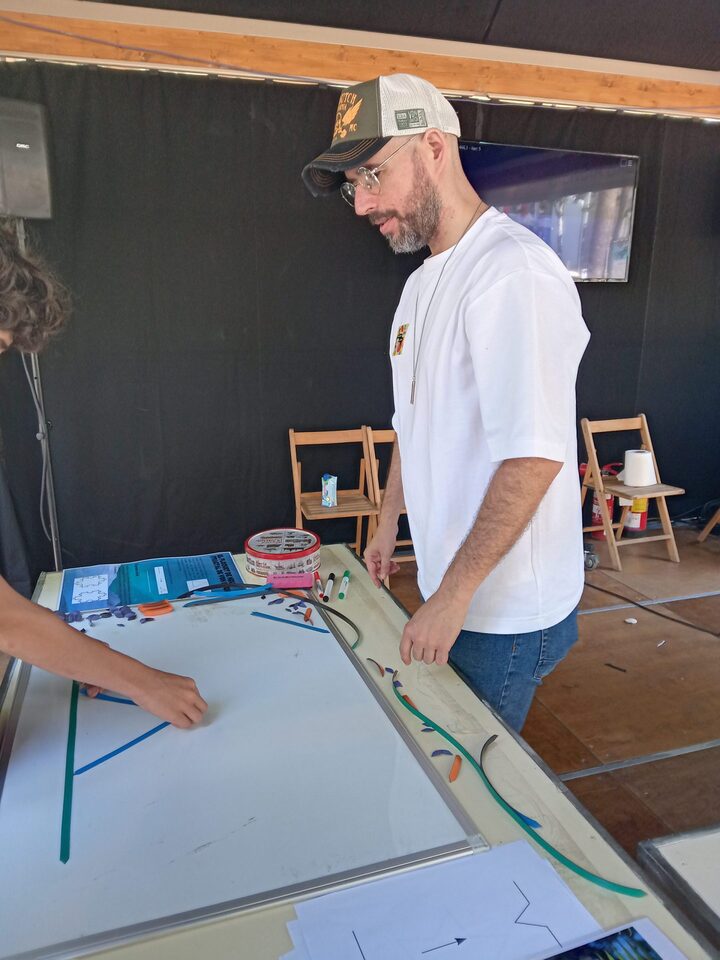 En Pau Varela, comunicador del CRM, guiant els assistents amb la construcció del Floc de neu de Koch
En l'última part de l'activitat els participants van poder interactuar amb un programa d'ordinador que generava el conjunt de Mandelbrot. Canviant l'escala d'aquesta distribució caòtica generada en el pla complex, es podien veure diferents estructures fractals, veient un exemple de la unió entre caos i fractals, dues temàtiques intuïtivament inconnexes.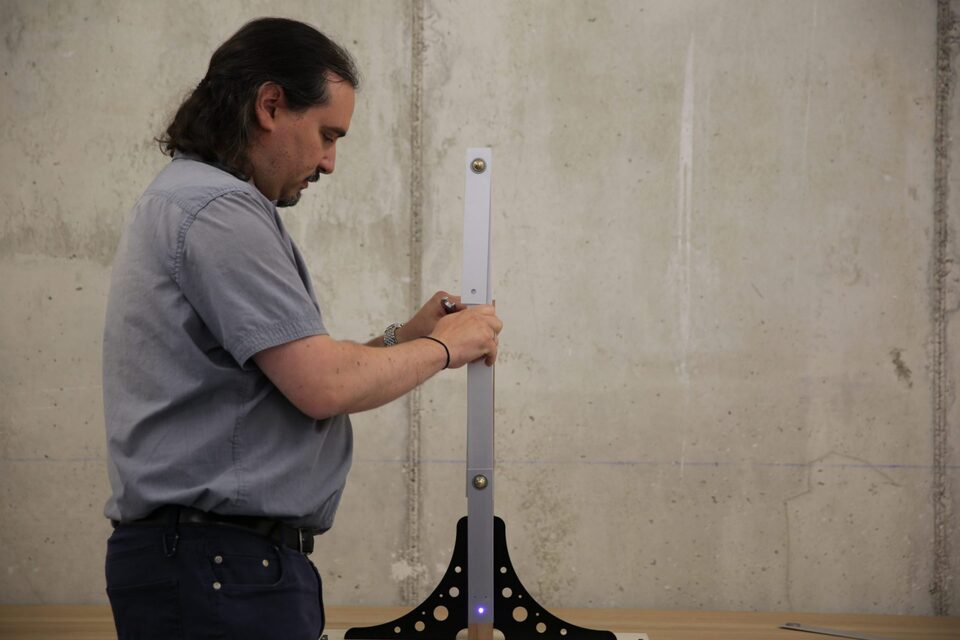 En Daniel Ramos, acabant d'ajustar el pèndol doble que va muntar per l'activitat de caos i fractals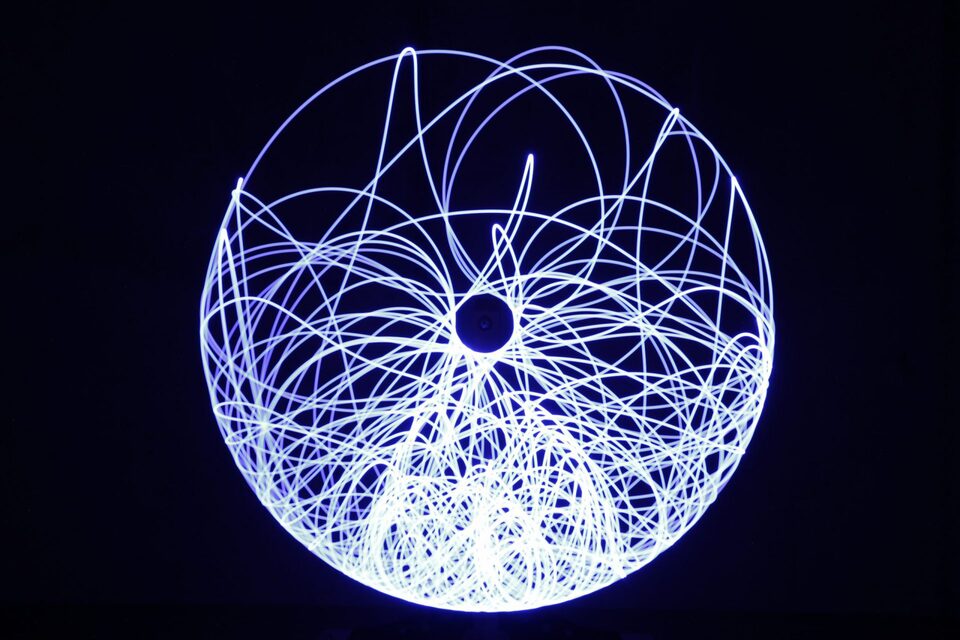 Moviment del pèndol doble a les fosques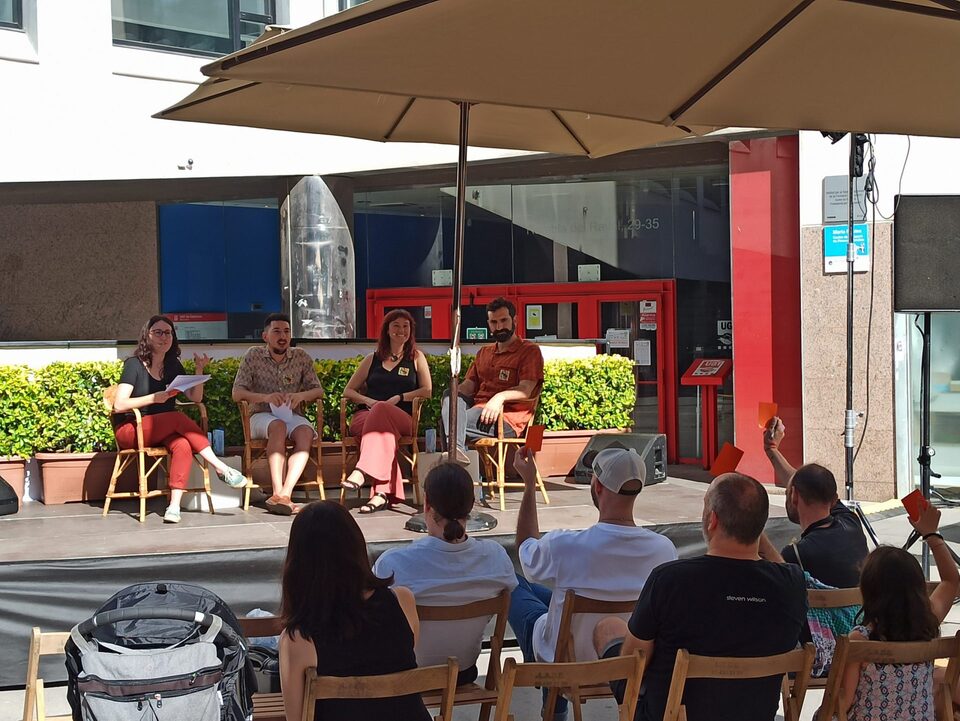 El públic responent a preguntes sobre IA. A l'escenari, d'esquerra a dreta: Anna Drou (moderadora, CRM), Vicent costa (IIIA-UAB), Aura Hernández (CVC-UAB) i David Romero (CRM).
La Intel·ligència Artificial: a on som, cap a on anem i com
El debat sobre Intel·ligència Artificial del dissabte va ajuntar investigadors de tres centres del Campus de la Universitat Autònoma de Barcelona. Van participar l'Aura Hernández, del Centre de Visió per Computador, en Vicent Costa, de l'Institut d'Investigació en Intel·ligència Artificial i i del Departament de Filosofia de l'Autònoma i en David Romero, de la Knowledge Transfer Unit del CRM. Cadascun des de la seva àrea de recerca i des del seu punt de vista, van parlar de les perspectives realistes que es poden plantejar en el camp de la Intel·ligència Artificial i quins són els reptes socials que tindrem a mida que es vagi desenvolupant aquesta ciència.
Tal com es va veure amb la interacció amb el públic, la Intel·ligència Artificial és un tema que genera curiositat, inquietuds i preguntes. Els tres ponents van expressar el seu convenciment sobre la necessitat de democratitzar la ciència i que els investigadors dialoguin amb la ciutadania sobre la direcció dels desenvolupaments en IA. Amb aquest objectiu en ment, el primer pas és explicar la recerca que s'està fent.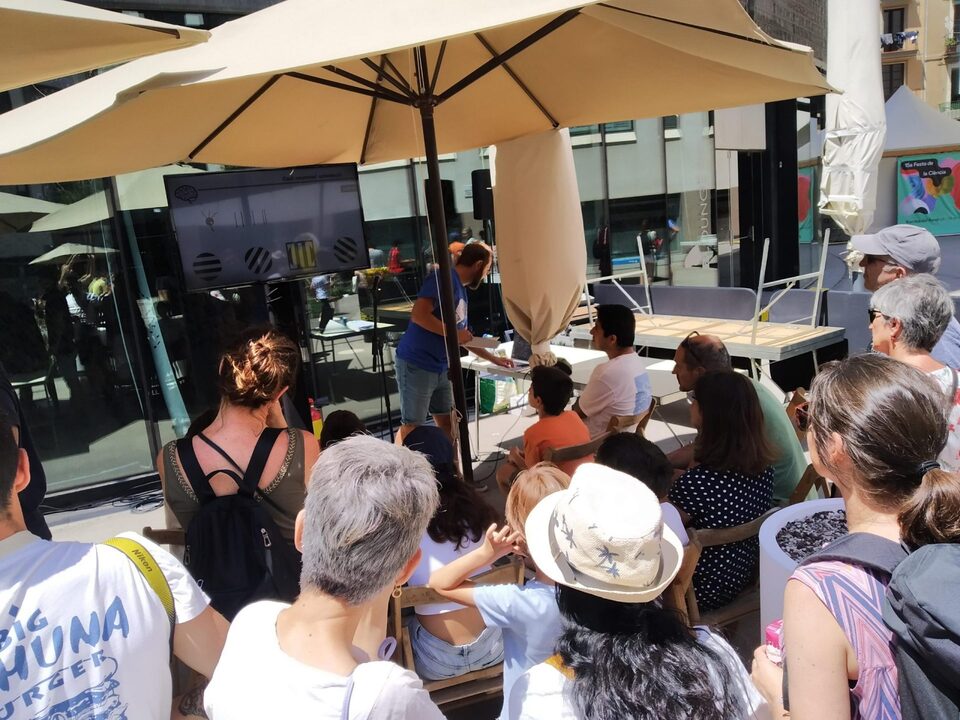 Xerrada/joc sobre el funcionament del cervell
Neural Code
L'activitat de diumenge va estar coordinada pels investigadors Klaus Wimmer i Alexander Hyafil, del grup de Neurociència Computacional. La post-doc Sara Ibánez i el doctorand Pan Ye també van participar en el taller.
Després d'una explicació senzilla del funcionament del cervell i a través d'un joc, els oients van poder veure com es creen els models matemàtics per entendre els comportaments elementals del cervell.
En la segona part del taller, els participants van poder experimentar de primera mà com el moviment muscular es podia entendre com un impuls elèctric. Amb uns electròdes connectats al braç, l'impuls elèctric era canalitzat a través d'un circuit. Llavors el participant podia obrir i tancar una mà robòtica senzilla i provar de controlar el seu moviment. Una altra opció era la de transmetre l'impuls elèctric al múscul del braç d'un altre participant mitjançant electròdes, i aquest últim acabava movent la mà de manera involuntària.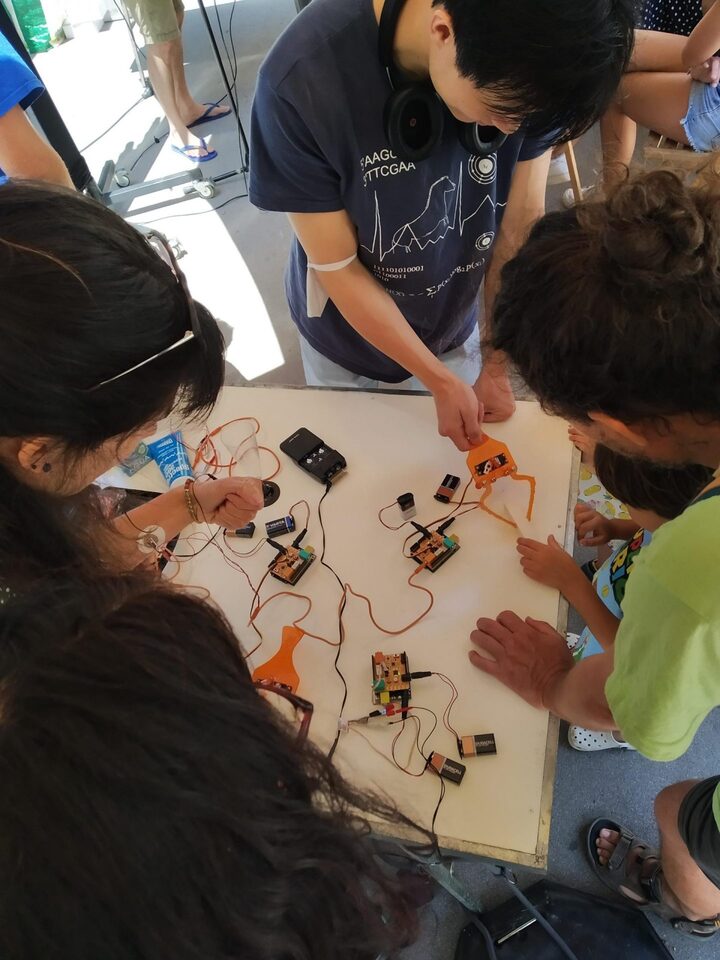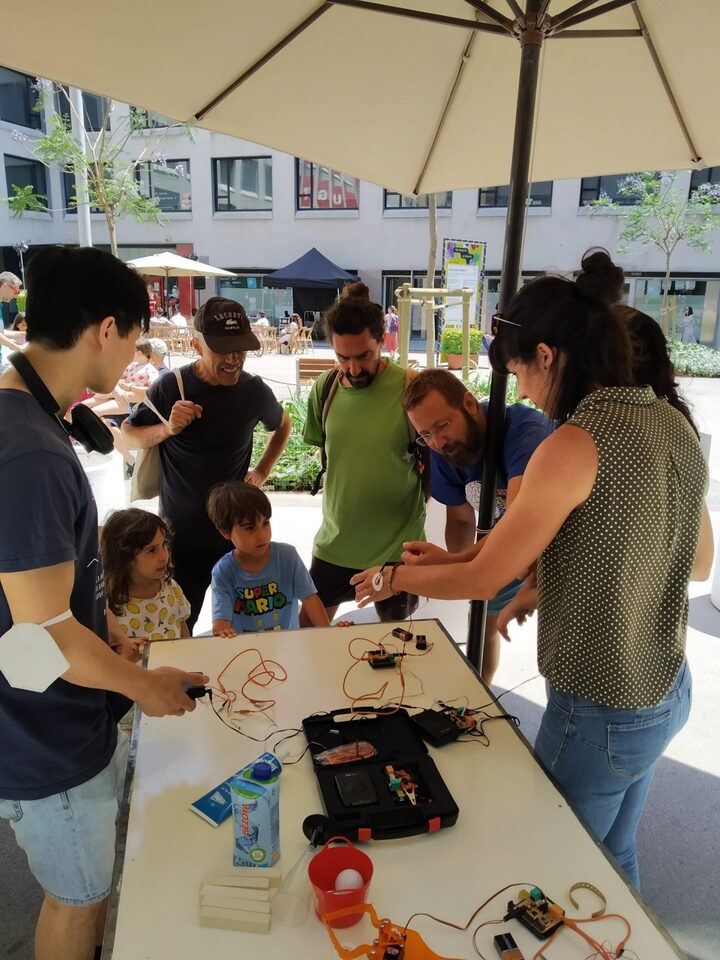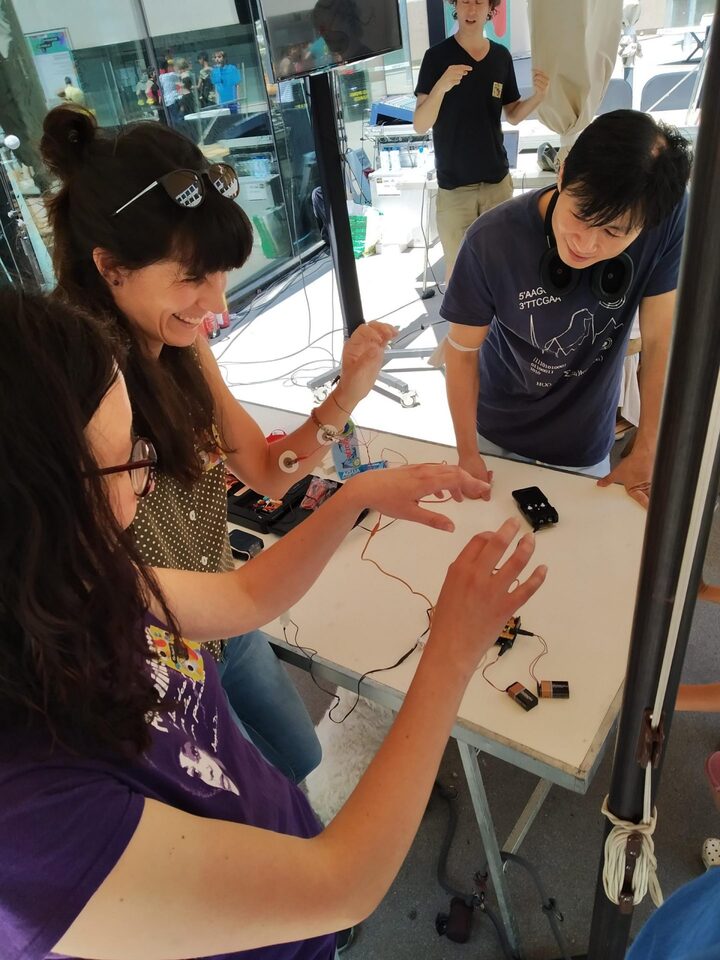 Experiments d'activació de braços robòtics i de transmissió de senyals a un altre braç
Va ser un cap de setmana d'il·lusió, d'experimentació i de fer que la ciència fos part del lleure i la cultura. Un element important també va ser la utilització d'espais públics i accessibles que van facilitar que s'acostés gent diversa. Una iniciativa fantàstica de la qual esperem tornar a gaudir l'any vinent.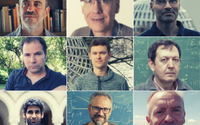 A new update of the list of the World's Top 2% scientists, an international ranking of the world's most cited scientists in various disciplines, has been released by the Stanford University. Researchers from the Centre de Recerca Matemàtica appear both on the 2021 and the career-long lists.