INPhINIT is a doctoral fellowship programme devoted to attracting international Early-Stage Researchers to the top Spanish research centres in the areas of Bio and Heath Sciences, Physics, Technology, Engineering and Mathematics.
"la Caixa" Foundation grants 35 fellowships for early-stage researchers of any nationality to pursue their PhD studies in research centres accredited with the Spanish Seal of Excellence Severo Ochoa, María de Maeztu or Health Institute Carlos III and Portuguese units accredited as "excellent" according to the evaluation of the Fundação de Ciência e Tecnologia. This frame is addressed exclusively to PhD research projects on STEM disciplines: life sciences and health, experimental sciences, physics, chemistry and mathematics.
Check out the CRM research groups participating in the 2023 call:
25 January 2023: Deadline for submitting applications.
REQUIREMENTS
Research experience: Candidates must be in the first four years of their research career and must not have previously obtained a PhD degree or be in a position to apply for one.
Academic records: Applicants must hold a higher education degree that makes them eligible to enrol in a doctoral programme in Spain/Portugal when starting at their host institutions. The verification of the level of studies equivalent to those mentioned above will be carried out by the host university during the admission procedure.
Mobility: Candidates must not have resided or carried out their main activity (work, studies, etc.) in Spain/Portugal for more than twelve months in the three years immediately prior to the deadline for applications.
Level of English: Candidates must accredit an advanced level of English (B2 or higher).
INPhINIT is promoted by the "la Caixa" Foundation with the aim of supporting the best scientific talent and fostering innovative and high-quality research in Spain by recruiting outstanding international students and offering them an attractive and competitive environment for conducting research of excellence.

CRM Comm Team
Anna Drou | Pau Varela
Subscribe for more CRM News
Subscribe to our mailing list to get the lastest information about CRM activities.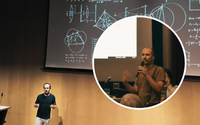 El Centre de Recerca Matemàtica va participar a la Nit de la Recerca Europea, un esdeveniment públic destinat a acostar la ciència i la investigació a públics de totes les edats i difondre la innovació d'una...