En ocasió de l'11 de febrer, Dia de la Dona i la Nena en la Ciència, la Sara Ibáñez (CRM), la Carla Riera (RheoDx) i l'Anna Drou (CRM) van visitar alumnat de primària i ESO per visibilitzar la dona en la ciència.
 #100tifiques 2022
El passat 11 de febrer, 476 científiques es van desplaçar a 427 escoles d'arreu de Catalunya per despertar vocacions científicotècniques, acostar la ciència a la societat i donar referents als alumnes de dones en la ciència.
Aquestes sessions formen part de la iniciativa #100tifiques, que ja va per la quarta edició, sortida d'una col·laboració entre la Fundació Catalana de Recerca i Innovació (FCRI) i el Barcelona Institute for Science and Technology (BIST) amb la col·laboració del Departament d'Educació de la Generalitat de Catalunya. També va organitzar, el dia 4 de febrer, la Trobada Anual de les 100tifiques del sistema públic i privat.
L'experiència als centres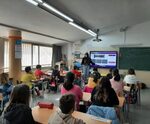 La Sara Ibáñez va visitar l'alumnat de 4t d'ESO de l'INS Estela Ibèrica de Santa Perpètua de Mogoda. Els hi va parlar de la seva recerca en neurociència computacional i el camí que havia seguit des dels seus estudis en física per arribar-hi. La Carla Riera va visitar els alumnes de 6è de primària de l'Institut Escola de Santa Anna a Premià de Dalt. Començant pel seu interès per la ciència, van acabar parlant de la recerca que desenvolupava a RheoDx. L'Anna Drou va visitar els alumnes de 6è de primària de l'Escola Giroi de La Garriga. Van parlar de ciència, comunicació i dels perfils diferents que es dediquen a la ciència.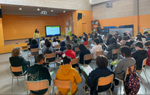 Tot i estar satisfetes de les experiències, les tres concorden en localitzar diferències de comportament segons el gènere en les xerrades. Per exemple, en les preguntes durant i al finalitzar l'activitat: totes o la gran majoria venien de nens. Després de nombrosos canvis en l'educació i campanyes contra les discriminacions i estereotips de gènere, encara hi ha molta feina per fer.
En ciència també passa
L'àmbit científic no se n'escapa de les discriminacions per motiu del gènere tal com molt bé explica la campanya 'En ciència també passa' promoguda pel Centre de Recerca Ecològica i Aplicacions Forestals (CREAF). Recollint només alguns marcadors d'aquesta desigualtat, tal com fa l'ISGlobal en l'infografia '7 dades que mostren que la ciència discrimina', es veu que hi ha molta feina per aconseguir que l'accés a les carreres científiques i a treballar en ciència no vingui condicionada pel gènere. Un dels problemes, també, tal com es fa ressó l'Institut de Ciències del Mar (ICM-CSIC), és que la major part de la comunitat científica no és conscient d'aquesta disparitat de gènere en la recerca.
Més informació:
La sessió del dia 11 va ser introduïda per un vídeo de la tripulació Hypatia, un grup de 9 científiques catalanes que es va crear per participar en la simulació d'una estada a Mart, convocatòria organitzada per la Mars Society, i el seu projecte va ser guanyador, per la qual cosa se n'aniran a Utah (Estats Units) l'abril del 2023. La Mars Society és un dels centres de simulació de l'espai que hi ha al món. Són centres molt aïllats que permeten realitzar experiments replicant condicions de fora de la terra.


CRM Comm Team
Anna Drou | Paula Lomascolo | Pau Varela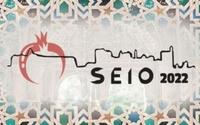 The SEIO 2022 took place in Granada, Spain from the 7th to the 10th of June.From June 7 to June 10, the SEIO 22 took place in Granada. It was the 39th Spanish Conference on Statistics and Operations Research and particularly, the first one to be held in person since...