Conference
From May 25, 2023
to May 26, 2023
Registration deadline 15 / 05 / 2023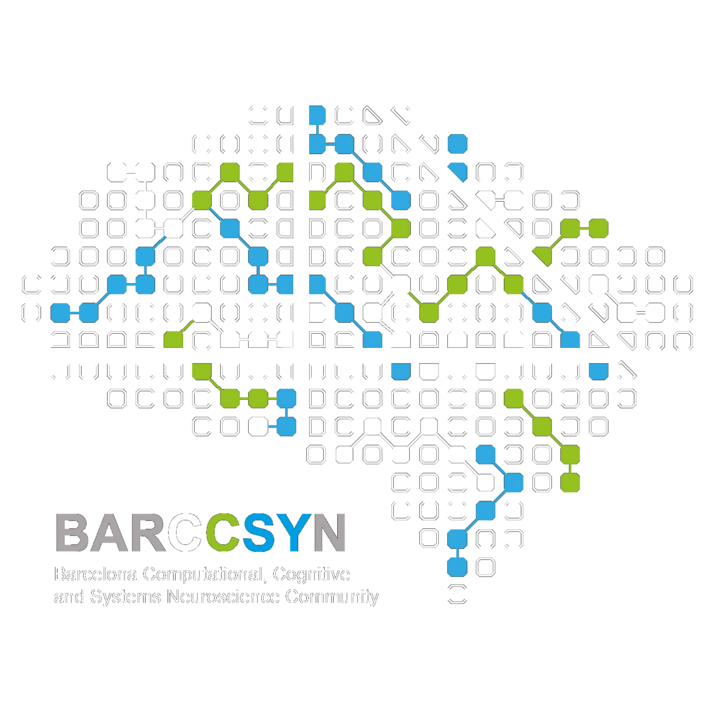 The annual
Barcelona Computational, Cognitive and Systems Neuroscience (BARCCSYN) meeting
is about bringing together researchers from computational, systems and cognitive neuroscience. Our goal is to provide a forum for lively discussion and promote active collaboration between Barcelona-based research groups, especially between theorists and experimentalists.
This is the 11th annual Barccsyn conference.  The conference will be held on May 25 and 26, 2023, at the Institut d'Estudis Catalans.  Each day we will have 8-10 brief oral presentations from local researchers, a poster session and two longer keynote lectures from two renowned researchers from abroad.
Gemma Huguet | Universitat Politècnica de Catalunya – CRM
Chiara Mastrogiuseppe | Universitat Pompeu Fabra 
Adrián Ponce Álvarez | Universitat Politècnica de Catalunya
Klaus Wimmer | CRM
Emergence of organization and computation in neural circuits across scales

Julijana Gjorgjieva
Technische Universität München
Professor Gjorgjieva conducts research in the fields of computational and theoretical neuroscience. She is interested in how brain circuits become tuned to maintain a balance between constant change as we learn new things, and robustness to produce reliable behavior. In particular, she concentrates on two aspects of neural circuit organization, looking at how it emerges from the interaction of neuronal and synaptic properties during development, and from optimality and energy conservation principles that operate over the longer timescales of evolution.
Professor Gjorgjieva studied mathematics at Harvey Mudd College in California, USA. After obtaining a PhD in Applied Mathematics at the University of Cambridge in 2011, she spent five years in the USA as a postdoctoral research fellow at Harvard University and Brandeis University, supported by grants from the Swartz Foundation and the Burroughs-Wellcome Fund. In 2016, she set up an independent research group at the Max Planck Institute for Brain Research in Frankfurt and joined TUM as an assistant professor shortly after as part of the MaxPlanck@TUM program. She received tenure and joined TUM as a full professor in 2022. She is also a member of the Bernstein Center for Computational Neuroscience in Munich.

Maurizio Mattia
Italian National Institute of Health (ISS)
Professor Mattia is a physicist with a PhD in Neurophysiology, holding a permanent Researcher position at the National Centre for Radiation Protection and Computational Physics of the Istituto Superiore di Sanità (Italian Institute of Health, Rome). His main interest is in bridging the gap between theory and experimental evidence on cortical network dynamics, by developing innovative data analyses and computational approaches.
| Name | Institution |
| --- | --- |
| Alex Roxin | Centre de Recerca Matemàtica |
Poster and contributed talks
Participants have the option to contribute with a talk or a poster presentation.
The poster boards that are available at the venue measure one meter wide by two meters high. Any poster size within these limits is fine.
To apply, 
please select the relevant option during the registration process.
Deadline: 25/04/2023
Resolutions will be sent before 05/05/2023
There will be prizes for the best students contributions​
You will be asked to create a CRM web user account before registering to the activity through the following link (please note that it will be necessary to fill in both the personal and academic requested information in the web user intranet):
Once you have created your CRM user, you can sign in on the activity web page to complete your registration.
INVOICE/PAYMENT INFORMATION
IF YOUR INSTITUTION COVERS YOUR REGISTRATION FEE: Please note that, in case your institution is paying for the registration via bank transfer, you will have to indicate your institution details and choose "Transfer" as the payment method at the end of the process.
UPF | UB | UPC | UAB
*If the paying institution is the UPF / UB/ UPC / UAB, after registering, please send an email to comptabilitat@crm.cat with your name and the institution internal reference number that we will need to issue the electronic invoice. Please, send us the Project code covering the registration if needed.
IDIBAPS
*If the paying institution is IDIBAPS, please send an email to comptabilitat@crm.cat with the Project reference code that will cover the registration cost, to be added to the invoice if necessary.
Paying by credit card
IF YOU PAY VIA CREDIT CARD but you need to provide the invoice to your institution to be reimbursed, please note that we will also need you to send an email to comptabilitat@crm.cat providing the internal reference number given by your institution and the code of the Project covering the registration (if necessary).
| | |
| --- | --- |
| | For inquiries about this event please contact the Scientific Events Coordinator Ms. Núria Hernández at nhernandez@crm.cat​​ |