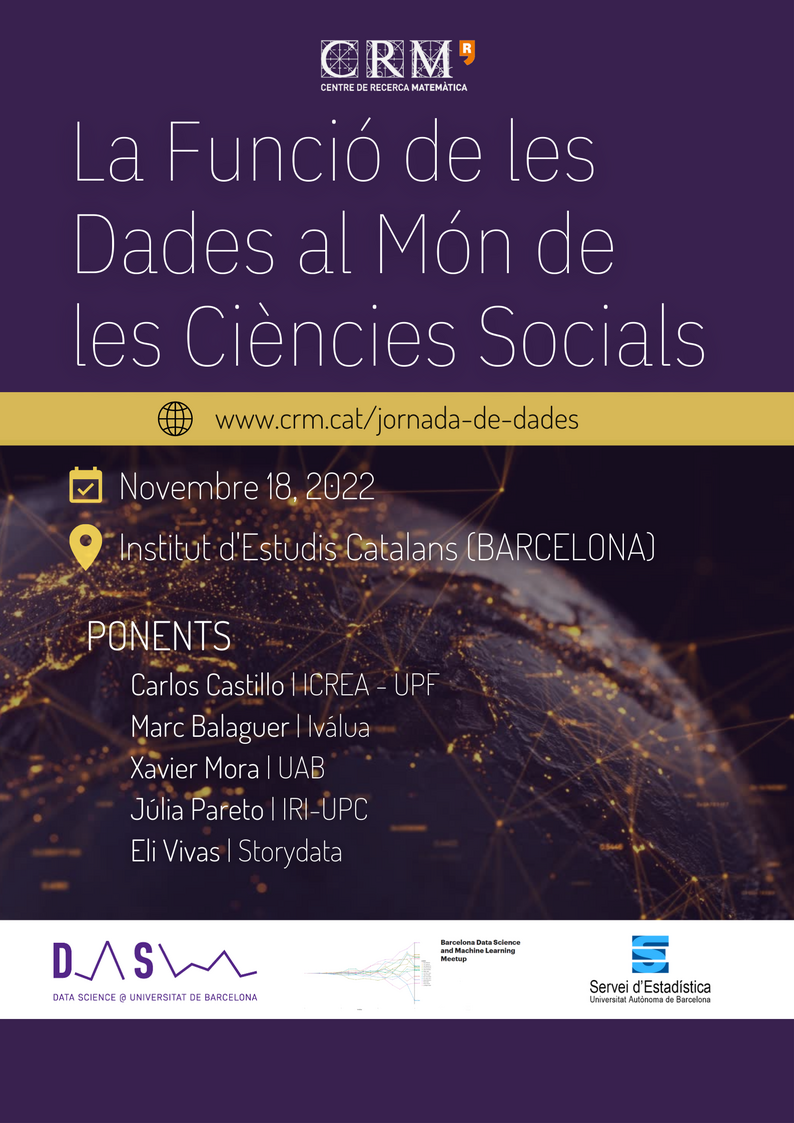 LLOC:
Sala Prat de la Riba
Institut d'Estudis Catalans
Carrer del Carme, 47, 08001 Barcelona
Eloi Puertas | Universitat de Barcelona
Aleix Ruiz de Villa | Freelance Data Science Consultant
Llorenç Badiella | SoCE (Societat Catalana d'Estadística)
Josep Vives | Universitat de Barcelona

Carlos Castillo
ICREA - Universitat Pompeu Fabra
Investigador ICREA a la Universitat Pompeu Fabra, on dirigeix el Grup de Recerca en Ciència Web i Informàtica Social. 
Abstract

Eli Vivas
Cofundadora de Storydata
Periodista de dades i experta en visualització. Imparteix classes en diversos màsters i graus universitaris.
Abstract
Sociologia – Avaluació de polítiques públiques

Marc Balaguer
Iválua - Instituto Catalán de Evaluación de Políticas Públicas
Economista i doctor en Polítiques Públiques i Transformació Social. És membre del Centre de Recerca en Economia i Salut de la Universitat Pompeu Fabra i del Grup de Recerca en Anàlisi, Gestió i Avaluació de Polítiques Públiques de la UAB.
Abstract
Júlia Pareto
IRI-UPC
Llicenciada en Filosofia amb Premi Extraordinari per la Universitat de Barcelona (UB) i Màster en Filosofia Política per la Universitat Pompeu Fabra (UPF). Actualment és estudiant de doctorat a la Facultat de Filosofia de la UB i investigadora predoctoral FPI a l'Institut de Robòtica i Informàtica Industrial (IRI-CSIC-UPC)
Abstract

Xavier Mora
UAB Professor - Ars Electionis
Professor de Matemàtiques a la Universitat Autònoma de Barcelona (UAB)
Abstract
Algorismes per a eleccions mitjançant llistes obertes
Abstract:  En una votació o unes eleccions les dades que es recullen juguen un paper fonamental, ja que a partir d'elles es prenen decisions que ens afecten a tots o bé es determina un conjunt de persones a qui deleguem tals decisions. Tant en un cas com en l'altre, l'algorisme que determina el resultat final —la decisió adoptada o el conjunt de representants elegits— admet diverses possibilitats, que poden ser més o menys encertades. En aquesta xerrada considerarem el cas d'unes eleccions mitjançant llistes obertes. Com veurem, l'algorisme més obvi no és gens encertat. Per fer-ho bé cal aplicar altres algorismes que explicarem junt amb un exemple amb dades reals.
Treball conjunt amb Rosa Camps i Laia Saumell.
Periodisme de dades

Eli Vivas | Storydata

Politòlegs

Xavier Mora | UAB

Sociologia – Avaluació de polítiques públiques

Marc Balaguer | Iválua

Robòtica Social

Júlia Pareto | IRI-UPC

Fairness

Carlos Castillo | ICREA-UPF
You will be asked to create a CRM web user account before registering to the activity through the following link:
INFORMACIÓ DE LA FACTURA/PAGAMENT
SI LA TEVA INSTITUCIÓ COBREIX LA TEVA QUOTA DE MATRÍCULA: Tingues en compte que, en cas que la teva institució estigui pagant la inscripicó mitjançant transferència bancària, hauràs d'indicar les dades de la teva institució i triar "Transferència" com a mètode de pagament al final del procés.
UPF | UB | UPC | UAB
*If the paying institution is the UPF / UB/ UPC / UAB, after registering, please send an email to vramirez@crm.cat with your name and the institution internal reference number that we will need to issue the electronic invoice. Please, send us the Project code covering the registration if needed.
Paying by credit card
IF YOU PAY VIA CREDIT CARD but you need to provide the invoice to your institution to be reimbursed, please note that we will also need you to send an email to vramirez@crm.cat providing the internal reference number given by your institution and the code of the Project covering the registration (if necessary).
INSTITUCIONS COL·LABORADES
| | |
| --- | --- |
| | For inquiries about this event please contact the research programs coordinator Ms. Núria Hernández at nhernandez@crm.cat​​ |