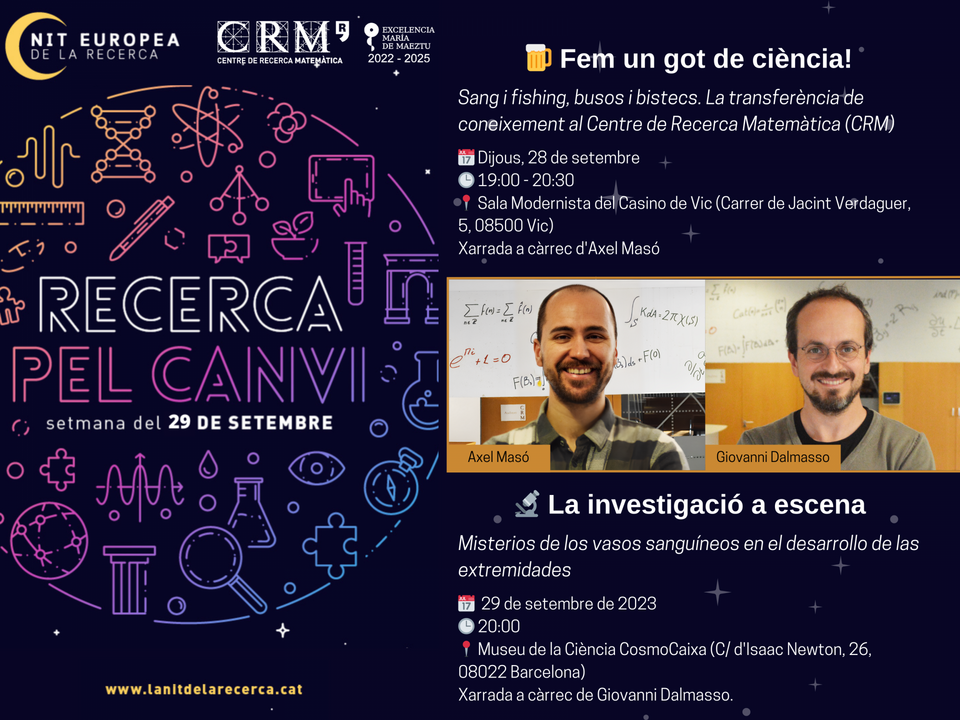 Un any més, el Centre de Recerca Matemàtica participa a la Nit Europea de la Recerca amb la participació de dos investigadors del centre.
🍺 Fem un got de ciència!
📅 Dijous, 28 de setembre
🕒 19:00
📍 Sala Modernista del Casino de Vic (Carrer de Jacint Verdaguer, 5, 08500 Vic)
Sang i fishing, busos i bistecs.
La transferència de coneixement al
Centre de Recerca Matemàtica (CRM)
La principal activitat d'un centre de recerca i, en particular, d'un centre de recerca en matemàtiques consisteix – és clar – en fer recerca. Els investigadors publiquen els seus descobriments en revistes científiques o els expliquen en congressos especialitzats, la qual cosa permet transferir-los a altres experts, fent avançar les fronteres del coneixement.
Ara bé, la transferència d'aquests coneixements es pot dur a terme també cap a d'altres esferes, com ara la indústria, el sector públic o directament a la societat. Algunes d'aquestes matemàtiques acadèmiques són útils per solventar problemàtiques reals, des del disseny d'algoritmes per augmentar la seguretat cibernètica fins a l'optimització de processos logístics. Les matemàtiques impacten directament en la vida quotidiana, encara que no sempre en siguem conscients.
Al Centre de Recerca Matemàtica (CRM), la unitat de transferència de coneixement construeix ponts entre matemàtiques i fenòmens quotidians com ara la detecció de malalties analitzant la sang, la prevenció d'atacs de fishing, l'optimització de la xarxa d'autobusos de Barcelona i la cocció de bistecs més gustosos. En aquesta xerrada breu veurem quines matemàtiques hi ha darrera d'aquests projectes i quin camí segueixen fins que arriben a la societat.
Xarrada a càrrec d'Axel Masó.
‍🔬 La investigació a escena
📅  Divendres, 29 de setembre
🕒 20:00
📍 Museu de la Ciència CosmoCaixa (C/ d'Isaac Newton, 26, 08022 Barcelona)
Misterios de los vasos sanguíneos
en el desarrollo de las extremidades
Els científics han descobert una cosa fascinant sobre com es desenvolupen les nostres mans i els nostres peus. Han trobat que quan els ossos a les nostres extremitats comencen a formar-se, alguns dels vasos sanguinis misteriosament s'encongeixen i desapareixen en aquesta àrea. Però no et preocupis, la resta dels vasos sanguinis segueixen fent la seva feina a altres zones.
Per entendre millor aquest procés misteriós, els científics van observar al laboratori com es comportaven les cèl·lules dels vasos sanguinis i van descobrir que una molècula especial anomenada Sox9 té un paper important a guiar els vasos sanguinis i fer que canviïn de forma.
Però això no és tot! Els científics també van utilitzar les matemàtiques i els ordinadors per entendre com creixen i canvien els vasos sanguinis. En combinar els seus experiments al laboratori amb els resultats matemàtics que obtenien els ordinadors, van aprendre encara més sobre com es formen les nostres extremitats i per què de vegades els vasos sanguinis desapareixen.
Aquesta investigació només és el començament d'un gran trencaclosques, i mostra com els científics de diferents camps treballen junts per entendre el que passa dins dels nostres cossos. En estudiar com creixen les nostres extremitats, esperen resoldre encara més misteris i fer descobriments importants que puguin ajudar les persones en el futur.
Xarrada a càrrec de Giovanni Dalmasso.
La Nit Europea de la Recerca és un esdeveniment públic dedicat a la divulgació de la ciència. El seu objectiu és apropar la recerca i els seus protagonistes a públics de totes les edats i donar a conèixer la recerca i la innovació de manera planera i divertida. Així doncs, la població tindrà l'oportunitat de conèixer els avenços científics que s'hi desenvolupen al territori de la mà dels propis investigadors.
Aquest esdeveniment se celebra l'últim divendres de setembre de cada any. Gràcies a la seva popularitat (l'acte atreu més d'un milió de visitants arreu d'Europa), s'ha allargat durant els dies previs i el cap de setmana.

Subscribe for more CRM News
Stay updated to our mailing list to get the lastest information about CRM activities.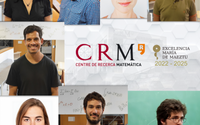 We start the academic year 2023-24 with the addition of eight new researchers to our groups, all of them from different backgrounds and expertise. This new batch of talent joining our community includes four postdoctoral fellows hired thanks to the Maria de Maeztu...